Discover the roadmap to embrace digital transformation today!
Your future savvy tech-solutions made simple. Meet our team of developers, coders, and innovators to bring your futuristic solutions to business!
Let's Discuss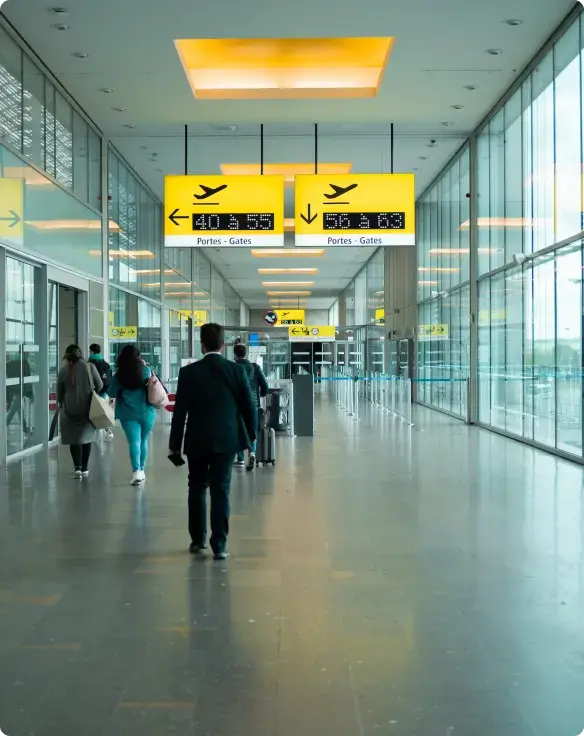 Our Recent Use Case
Airport Digital Transformation
Reimagining Airport
Restructuring Facilities Management in Southeast Asia's Largest Airport!
Recently, our team of experts took a relentless journey to resolve a slew of challenges in airport management for one of the largest airports in Southeast Asia. We digitalized a seamless single management portal for all the maintenance teams to monitor the terminals, runways, airport facilities, and much more!
Why Choose Us?
We have the perfect combination of cutting-edge technologies & development expertise to provide you with the best software.
Cutting-edge Approach
Our cutting-edge tech and development expertise combine to deliver the best software solutions for you.
Transparent Roadmap
We assure transparency at all stages of the project and provide you with the maximum support you need.
Customized Solutions
Finally, our best Business Analyst Team understands your requirement deep down to cover all blind spots.
0+
Years of Experience
0+
Partners
0+
Countries
0+
Projects
0+
Happy Clients
Our Services
Leverage Our Services To Streamline Your Business and Teams!
We love tinkering with emerging technologies and often play pioneers in crafting services for our clients and end-users!
Our Projects
Interdisciplinary Portfolio - Take a Look!

With an inclination to make web & mobile apps and all other tech-savvy applications accessible and compatible for all, our tech team has worked on several projects endowed with technical challenges! And here is how they achieved technical excellence in the end! Learn more about our projects here!
Explore More
Awards and Certifications
Get To Know Us Through the Laurels We Have Won!
Best Quality Management System 2015
We were awarded the ISO 9001: 2015 Quality Management System Certification for our competence & consistency among all.
Our Gripping Adventure With ME's SDP
With an intuitive approach to leveraging ManageEngine's suite of solutions, we have a knack for tunneling through the features of ME's SDP. Recently, we had a gripping adventure with ServiceDesk Plus!
One of the Best Web App Development Companies by Clutch
Known for our custom web application services, we got listed as one of the best Web application development companies.
Top-Rated Health Care Application Development Company by DesignRush
With authentic craftsmanship in building trendy healthcare apps, we got rated as one of the best and most innovative Health Care App Developing companies.
Places Where Our Solutions Have Made a Difference!
With diverse applications, we have made a massive difference in the lives of our clients!
Nestlé Health Science

Reach

Changi Airport

ST Engineering

United Nations

Motorola

L&T

Royal Enfield

LivingMatrix

ICA

Modoo

Showdown Live

BeerBoard

HealthPlotter

Sitefly

doctorDB

GeoSnapShot

Kutir Technologies
What Our Clients Say?
Our innovative solutions are more impactful and here is what our happy clients want to tell us!
It was exceptional to work with Spritle as they were responsive & creative with their solutions. They kept us in sync with their process and interactions.
Spritle provided invaluable support to our Kickstarter & they prioritized every detail, ensuring that we were given the best possible management.
Spritle is an extension of our infrastructure & has done well blending into our work culture. They go above & beyond to deliver the best outcomes.
We have been working with Spritle now for over three years & what a run it has been. I am grateful that we have worked together as partners.
The relationship with spritle is one of the biggest assets that we have. Their devotion and dedication to their clients is something truly admirable.