Let's Grow Together
Spritle's goal is to build a company where its employees can discover and unveil to their fullest potential. We always encourage our people to learn new technologies and be on top. Pave your way to your dream career with us.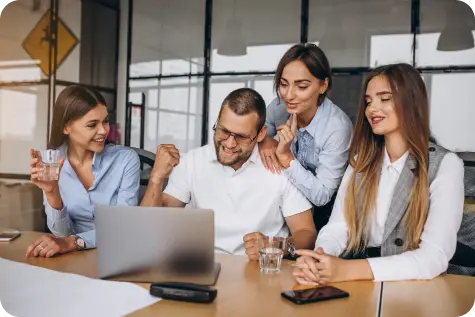 Find Your Dream Job!
Spritle works with competitive companies around the world. And that paves the way for you to constantly stay in touch with innovative teams, working on building & enhancing various platforms.
Adding Value To Your Career
We at Spritle are always conscious of your development. We provide you with the correct environment to learn and grow towards a better future.
Professional, Yet Friendly
We are a group of friendly professionals looking forward to contributing to personal & professional improvement. We believe friendliness makes wonders.
A Healthy Competition
Employees of Spritle are very generous and we share even the tiniest bit of new information we learn. Our knowledge well is very deep!
Fun Get-Togethers
A stress-free environment for our employees is a must. We have different get-togethers and parties all time round the clock on important occasions & days.
Benefits of Joining Our Team
The main benefits of working in our company are that you'll get to know everyone, including the leadership team, and the workforce is more interconnected. Your responsibilities will often stretch outside of those in your job description, so you'll get a good understanding of what the company does as a whole, and your day-to-day life will often be quite varied. The breadth of exposure to diverse roles can aid your development and improve your holistic knowledge of how a company seamlessly works together. This means there's more opportunity for training and mentoring, so you can advance in your career and reach your goals even quicker.
Comprehensive Health Plans
Maternity & Paternity Leave
Flexible Working Hours & Weekly 2 Days Off
Employee Allowance & Employee Referral Bonus
Organizational Oriented Reimbursements
On Job Training & Effective Communication
Involve Employees in Policies And Decisions
Blogger Achievement Awards
Event Sponsor & Employee Motivation
Our Jobs
Current Available Positions at Spritle