All we need to deliver the Quality Project/Product to the clients. But every corn face a big problem in delivering things. Here i have a few suggestions on the process of delivering the Quality Project / Product.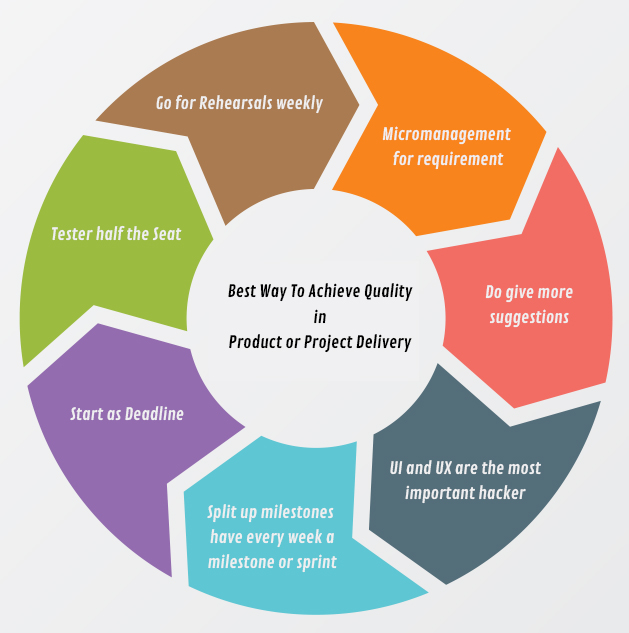 Micromanagement for the requirements:
Each and every work has to be documented starting from the UI and the functionality, must take more than week for the requirement understanding and freezing. Every minute part of the module has to be documented in the initial stage of the project development.
UI the Hacker:
The UI plays an vital role for the project which mostly attract the client.The design for the modules should be developed. The UI and the UX are the hacker of the project.
Suggestion should overload:
Even though the module is with full understanding both developer and tester should come up with lots and lots of suggestion. Dont worry about rejection from the client.Your suggestions make them to think about you guys.
Tester half a seat:
Testing effort estimation also should be added when estimating the module effort. Testing should have half the time from the development time(i.e if login page takes 4 days for development then testing should be done for 2 days).
Go for the rehearsals:
Each and every week end the client should have a mirror view of how we are working and what we have done with in both development level and testing level. Do send a UAT every week whatever the work may be done.
Perfect overseer:
DO have perfect tool for management of the project.Major thing for bug tracking and test case management. The bug tracking tool should be user friendly where the client and the team should be able to rack the status of the project in single page. I would like to suggest Jira where in single page or in the single story bug the whole status of the project can be tracked. And even the test case management and execution will be mirror clear to everyone.
Start as deadline:
The day from we start work should be always focused on the deadline of the project. Then only we will be able to plan for the work and do the work as quick as possible with quality.
Split up with milestones:
Do create a multiple milestones or Sprint as per agile methodology and work towards it. As per agile methodology each weekend is a milestone.
Thanks for reading patiently and hope it gives up a minion idea for the process to set up.