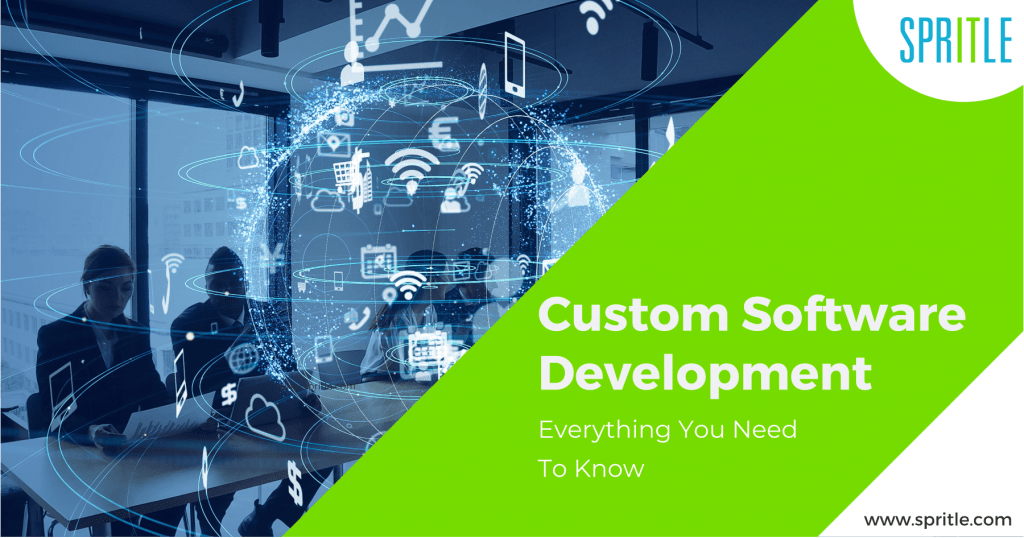 Hey there! With AI and so many other tech trends soaring high with several leaps and bounds, it's no wonder that software development has to be more customized to deliver the best experiences for end-users!
From tailoring them to meet the specific business requirements to keeping them scalable for changing tech scape and updates, it's a complex business that needs more focus and updated knowledge to make things happen. Therefore, in this comprehensive blog post, let's dive deeper into custom software development, everything you need to know, and get familiar with it as an integral part of the business world, which you can't miss!
Defining Custom Software Development
Custom software development encompasses designing, creating, deploying, and managing software for specific requirements. Compared to COTS(Commercial-Off-the-Shelf Software), custom software is more discrete and tailor-made to meet specific requirements. Now readers, who build this custom software? And why is it all intriguing? Let's find out!

In general, custom software gets built by a team of in-house software specialists or third-party outsourced teams and involves all the steps in the software development lifecycle. From requirement gathering to adding scalability to keep it compatible for future updates, custom software is similar to any other software development we know! So, what makes it different? What are the methodologies and approaches people use to build custom software? Besides, if you are a business person looking for custom software development services to scale up your business, how should you finalize your choices? Let's explore it in the upcoming section!
Build Vs. Buy- Finalizing Which One To Settle!
Choosing the most appropriate custom software solution for your business requires thorough analysis, and with several choices available in the market, which one should you have to settle on? Custom software development(Build) or commercial off-the-shield software(Buy)?

One way of figuring this out is to do a complete analysis of whether you have a software package in the market that will cover the following functions of your business and introduce automation and other tech-savvy changes to it:
Automating repetitive business processes
Handling specific lines of business data with care
Ensuring unique data and security privacies
Enhanced feasibility to replace existing solutions
Highly scalable for future updates and changes, etc.,
Another way is to look into the requirements you need in the software for your business and figure out where exactly you need the customization. That said, here is how going for custom software development gives you an upper hand compared to COTS.
Why going for custom software development the best choice?
Now, whether you have to build software from scratch or customize your existing one for your growing unique business needs, in all these scenarios, going for customized software apps will be more handy and benevolent. From bringing a personalized touch to making future integrations simple, custom software is the best choice. That said, here are the other benefits you could gain from custom software:
Efficiency
Building custom software rests upon meeting unique business needs and focuses on streamlining business operations more swiftly and productively, paving the way for more efficiency.
Scalability
Custom-built software applications are future-savvy and have inbuilt flexibility to accommodate updates and changes that come in the upcoming years. Therefore, they are highly scalable and could be built by keeping future needs as a developmental agenda, reducing the incurring cost spent on licenses and subscriptions.
Compatibility
They are flexible and interoperable in design and functionality with the existing systems. Though implementation of newly-built custom software must be incremental, the integration steps involved are always simple.
Cost-effective
Since custom software applications are highly customized initially, in the long run making updates and upgrades is feasible and cost-effective.
Adaptability
Now, when it comes to delivering the best experience for the end-users of software, it highly depends on how well the software caters to the changing needs of people and technology. Custom software development bridges the gap between the changes and challenges in software development and opens room for more adaptability in the future. This gives a higher competitive advantage over the competitors of a business.
Security
Software development always comes with the delicate task of handling user data and ensuring standardized data privacy. While opting for custom software for their business needs, businesses can ensure more security.
Best Practices & Tech Trends To Consider
The methodologies and best practices involved determine the whole custom software development process. Here are the best practices and the most significant tech trends in custom software development.
Web 3.0
Stretching ahead as the next version of the internet, Web 3.0 is one of the most influential tech trends of recent years that has significantly left disruptive trails in all walks of life, and custom software development is no exception.
Progressive Web Apps(PWA)
Progressive Web Apps are highly responsive and offer a convenience similar to mobile apps with rich features and security. From becoming one of the most cost-effective approaches to bringing fast response to the software app performance, PWA is one of the most impactful tech trends.
DevSecOps
Still, in the emerging phase, DevSecOps involves getting hold of emerging technologies like automated testing and continuous integration. It reduces risk factors in deploying new software companies and helps businesses take an intuitive stance in handling brewing cyber threats and data breaches.
Low Code or No-code Approach
With statistics quoting low code development as one of the best tech trends in custom software development, it's no wonder that it offers several benefits to businesses to leverage predictive analysis while handling data and automates tasks to be more collaborative. That said, some of the upsides of employing low code development include increased user-friendliness, speed, deployment, and maintenance.
Blockchain Technology
Paving the way for a decentralized future, blockchain technology has become one of the gripping factors in how business operations get streamlined in the upcoming years. From securing data from unauthorized access to bringing automation to business processes, it is beginning to be a striking tech trend in custom software development.
Now, readers! With these tech trends stated, there are a few more best practices when approaching a custom software development company to get your apps designed and deployed.
Some of those practices are:

Defining and understanding your needs precisely,
Settling for an expert software development team through a thorough analysis of their portfolio,
Having a well-versed knowledge of current challenges and future trends in custom software development,
Choosing the right technology and methodology, and tracking the testing process with proper documentation.
Hiring Custom Software Development Team-The Checklist
Hiring a custom software development company is one of the crucial steps in developing custom software for your needs. That said, every company follows its process, pricing model, and service packages for its clients. Therefore, when you decide to hire a custom software development company, follow the below checklist:
i) Look into the company's portfolio & projects:
A company's portfolio and the list of projects they have worked on will throw insights into whether they are who you are looking to complete your project. From the niche they excel to the professional expertise of their developer's team, much could be deciphered from the company's portfolio and project description.
ii) Read Testimonials
Testimonials are a hallmark of how a company deals with its clients. Reading testimonials is a must-do step while hiring a custom software development company as it reveals the work ethic and reliability it offers you.
iii) Go through their certifications and licenses
Bespoke software development, when implemented for niches like healthcare and financial services, involves handling data with privacy. Therefore, always look into the certifications and licenses the company follows for handling data.
iv) Learn the steps in the Developmental Journey
As mentioned earlier, every company follows its own developmental journey to complete a project. And learning the steps followed by the company you have in mind for hiring will be helpful.
v) Maintenance & Support
Maintenance and support are crucial to monitor the performance of the software after its launch. Therefore, it's crucial to look into the maintenance and support policies followed by the company before hiring them.
Conclusion:
In conclusion, custom software development is a dynamic field that keeps getting stupendous with several tech trends and changes. While launching a custom software customized for your business needs is one side of the story, maintaining it amidst updates is another. Therefore, when it comes to support and maintenance, outsourcing it to an application service provider is the best approach. Eventually, we hope you enjoyed reading this comprehensive guide on custom software development, everything you need to know!