Argh! Okay. Let me tell you their reason. On creating a deal in HubSpot from my application, I had put the locally used date format(DD/MM/YYYY). They wanted it to be (MM/DD/YYYY).

I'm still thankful to me for not breaking the monitor. How cool I was 🙂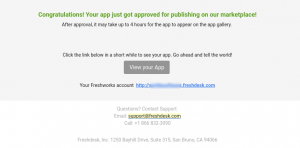 When I had to develop an app for the marketplace, I thought it was just another application development where I would just have to provide the solution. But I had to overcome an extraordinary journey where Freshworks had taught me a lot on with how much quality and security they want the integrations to their customers.
If you would like us to develop a custom app for your company, leave a comment below!