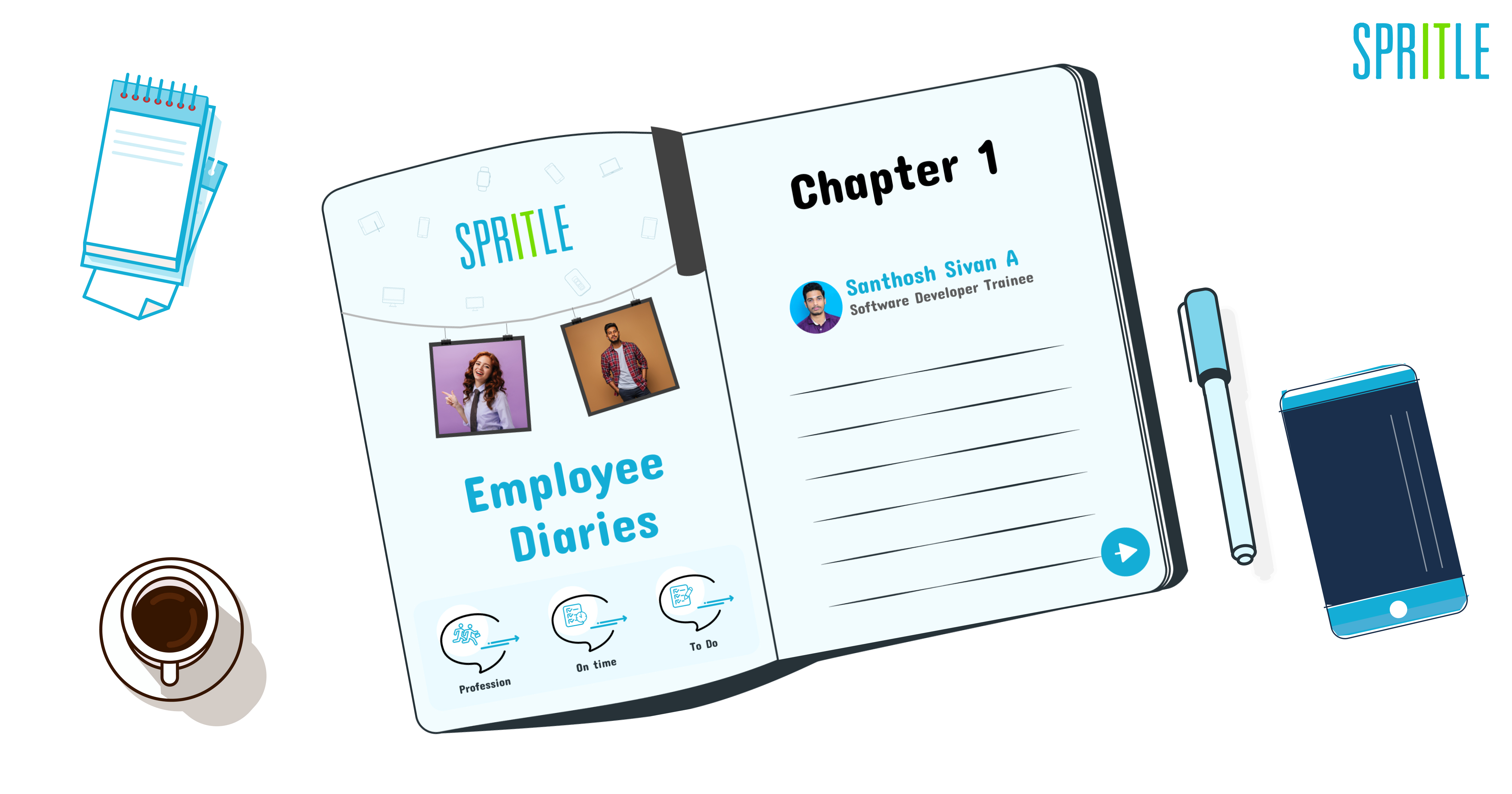 To the start of beautiful beginnings, to the road of dreams and memories. Amongst these paths, some lead to misery, and others portray a great amount of history. The way of life teaches us a lot, to see beyond what one cannot. Alongside my fellow people, I take a seat. Among the few, many will acknowledge my feat.
Spritle, unlike many companies, is more like a home where there are no employees, but rather family members. Today, one such member who joined us a month ago would like to talk about how he began to relish his time here. So let us see the company through his eyes.
Beginnings(Santhosh Sivan POV)
So after college, the first company that I joined happened to be the company that I am currently working at, so to put it simply, Spritle is my first as a Software Developer Trainee. Getting in, I had expectations as to what the atmosphere would be like and it did not disappoint.
Being my first job, I had no idea what was expected of me. All I had was Python and curiosity tucked in the back of my head. Thank god for the HR intern who certainly helped me maneuver my way through all the details and all that my job revolved around. So for the next week or so, I was being mentored, tutored, and guided in various ways by different people, but more importantly, the right people.
Fitting In
Fitting in wasn't so hard after all. The company seemed more like a dysfunctional yet harmonious family with multiple ways to deal with countless issues. So there wasn't a point where I felt left out, and they did not cease to amaze me with how easygoing and compatible everyone was.
If I were to pick a particular moment, I would say Fun Friday helped in connecting me to people I hadn't met before, and the diversity amongst the people helped me see how the spectrum looked from above.
Mentoring the right way
If anything, I would love to mention that Javeed, Spritle's Backend Developer, helped me to deal with all the issues I faced. In times of need, he constantly helped me out and gave me proper guidance. Much like how a plant can't be grown just by water and sunlight, it needs the right nurturing, and that is exactly what Javeed helped me with.
There was once an issue where I was stuck in a particular thread and no matter what I wasn't able to sort it out and was completely distraught. Just before I could call it quits, Javeed came to my rescue and helped me solve the issue that was pestering me for quite some time, allowing me to move ahead. So in short, I really would like to thank him for his help and contribution to my growth.
Understanding
So with all these beautiful people who guided me, tolerated me, taught me a lot, and gave me this opportunity, I have nothing to give but gratefulness. With this experience as a foundation, I will rise and become a dependable member of the Spritle family. They will be the touchstone of my start to an exciting beginning and hopefully a glorious one!