Ever been to some boring classroom seminars/ lectures/ conferences? There is this one guy who just sleeps in the corner peacefully irrespective of whatsoever is going in the front. Yeah, that's me.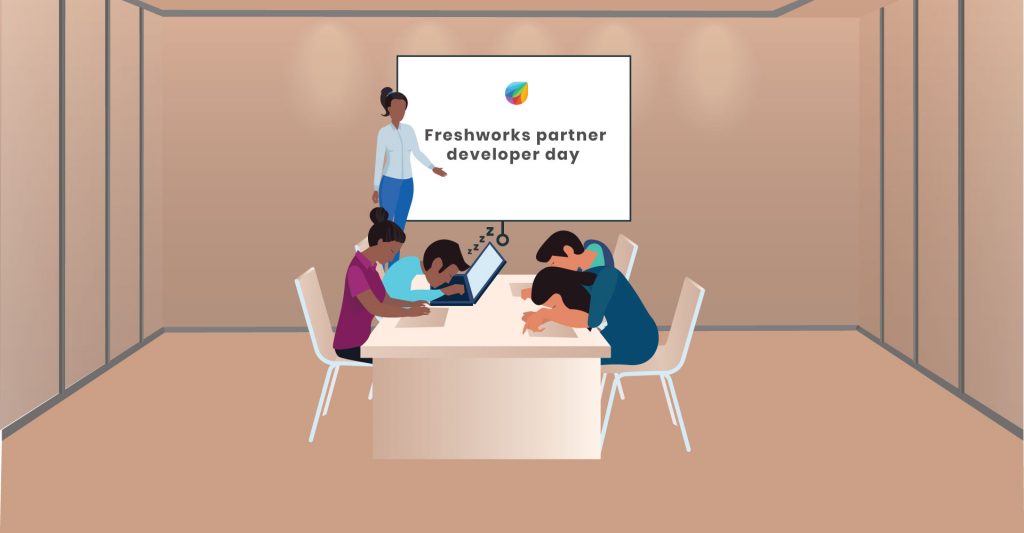 I work for Spritle Software and Spritle has been a solution partner of Freshworks for almost two years.

So, I received a notification from Freshworks that they are going to conduct a developer conference for their solution partners. And I got invited for the same.

I took a look at the agenda and the sessions went on like Apps and Authentication, Best practices to publish apps faster, Data Storage, Middleware and so on. I was like, "Dude! You already have got all these in your docs with proper explanations and why this?". Yep, we have integrated Freshdesk's apps with many platforms and none has got a very clear and straight forward documentation like Freshdesk has. Hands down! You can't prove me wrong here.

I thought okay, let's put a cheat code for office on that day and go attend the conference for sleep & burp.

Here comes the day where I have reached the location with my colleagues on time and found a seat to hit the sack and the rest is history.
Here we go!
We were given a welcome note about the things which were scheduled to happen while I explored the goodies provided by Freshworks for attending the conference. Nice na?! 😀

I opened up the bottle and drank a few pegs of Bisleri water(What else you think it was? Come on, it's a conference 😀 ) kept in front of me and saw the presentation screen. It had "Apps and authentication" as the heading. Raghuram, one of the Platform Engineers comforted himself with the Mic and laptop to proceed further.
Apps and authentication
He precisely explained the authentication methods available and what Freshdesk platform supports and what it does not. While I thought lets, set, get and go. Satwik, the lead Engineer who intruded and made the session more interactive(He was continuously doing it the whole day). Thanks to him, as that's when I started becoming serious and attentive.

Starting the day with the Apps and authentication session was really a good idea from them to lay a good path to travel through the day. The session was well made with the right explanations, examples and even hands-on which was really helpful.

The session gave us the feeling that the day is surely going to be fruitful as I crunched a few cookies which is similar to Karachi bakery's one <3 in the short break.

Best practices to publish apps faster
While I was setting myself back in position, Janani, Platform Engineer was ready to start her session – Best practices to publish apps faster. Looked at the title, I literally was laughing inside. If you had developed a marketplace app, you would know how much time the apps take to get out of the review phase from the marketplace. Even I have already ranted about it in another blog here. In other terms, they are that much perfect which is another good thing so that we can turn up the collar and brag that we developed a nice app.
But what happened afterwards made us sit more curious to look forward to the next point. More than whatever comments we received during the app rejections, we got a chance to learn more things which are to be considered while we cook the apps for their customers. The instant and good answers by Janani to the inquisitive questions asked and with live examples, the session was stellar.

Building powerful apps with Data Storage
After the good lunch, Vineeth, Platform Engineer – FW, felt unlucky as he got the immediate session post lunch 😀 and started the session – Building powerful apps with Data Storage. He explained clearly about the recent features rolled out to the Data Storage features and suggested various use cases we can handle with these features. Contradictory to that unlucky feeling, this session was very challenging with the hands-on tasks provided.

Meddling with Middleware
While we were working on the last task provided during the data storage session, Bharath replaced Vineeth to take us off to another session – Meddling with middleware. Even though Freshworks almost provide everything inside their SDK(luxurious features like AC and washing machines :D), there are also a lot of restrictions put by themselves inside the platform to ensure their customers' privacy and experience.
For instance, even if the third party API takes a little more time to provide API response than expected, they simply reject it stating timeout error. Because they simply don't want their customers to wait for a long time as it will be a bad experience for them. Yes, that's how Freshworks Marketplace team works.
To handle scenarios like this and that, we usually develop the apps using a middleware that's hosted outside Freshworks, unlike their SDK. Bharath explained how middleware is supposed to be developed and also introduced a few methods and tools which can improvise the app performance, security and the user experience. He really set the bar high for us to develop middlewares to have such standards.

In the Kitchen
The session was followed by Rohan, Platform PM and Arushi, Freshchat PM who both gave us the hints to the upcoming changes going to happen in and around Freshworks and it's products. All the updates they shared was like, "Guys!! This is biggggggg!!!!!!".

Then came the session, we have waited for – "Apps Done Done". We have been facing a few challenges with the apps we are currently developing and we utilised the session to the maximum and got the queries addressed. We really are more than grateful to Freshworks for organising just this session.

After all this, I just turned my head away from the laptop and had a look around and I saw people started leaving. I was like, "Wait! What?!!! What did just happen?!! Has the day got over? Really? What about my plan of sleeping? Man. This is cheating."
And this is how Freshworks spoiled my sleep in the name of developer conference. Poor me 🙁

Anyways, huge applause and thanks to Freshworks for organising such a wonderful day with right plans and executions. Look forward to having more such sessions in the future.

Hey! Yeah, you! If you're interested in knowing the list of apps we built for Freshworks, check out https://apps.freshdesk.com/search/?partner_name=Spritle.

If you would like us to develop a custom app for your company, leave a comment below!