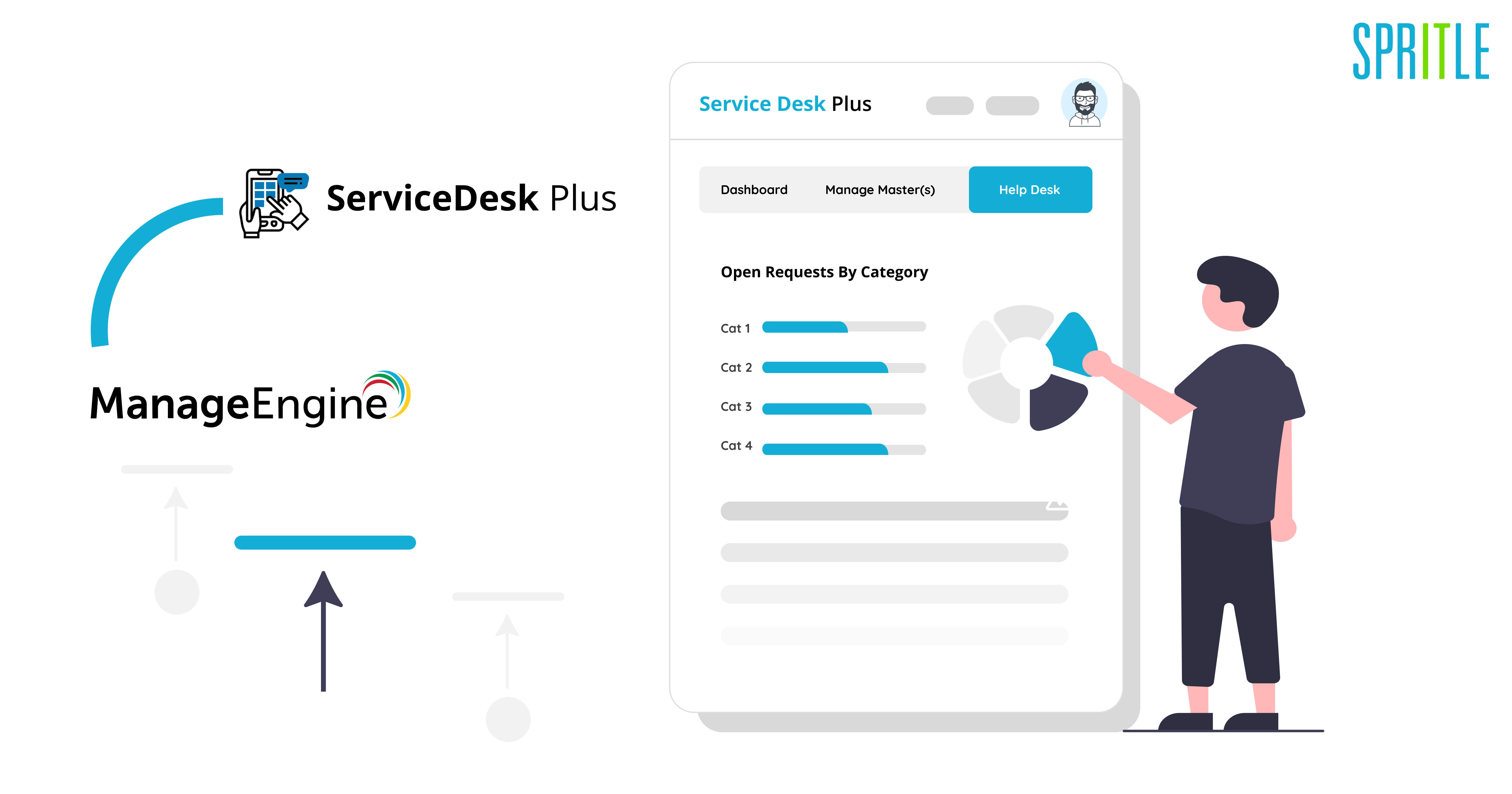 IT service desks serve as hubs of communication where users ask for assistance and receive IT support. They are also intended to meet more general business needs and improve user tech experience at work.
We will learn about what ManageEngine ServiceDesk Plus is in this article and why it is a better choice compared to other ITSM products that are available in the market.
What is ManageEngine ServiceDesk Plus?
ManageEngine ServiceDesk Plus is a web-based IT Service Management (ITSM) software designed to help organizations manage their IT services and support. It offers features such as incident management, problem management, change management, asset management, knowledge management, and self-service portals. The software is intended to streamline IT support processes and improve communication between IT and non-IT teams.
Tools of ManageEngine ServiceDesk Plus:
An effective IT Service Management (ITSM) software should have the following tools-
Incident Management — to track and manage incidents, outages, and service disruptions.
Problem Management — to identify and resolve root causes of incidents.
Change Management — to track, approve and manage changes to the IT infrastructure.
Configuration Management — to maintain an accurate and up-to-date inventory of IT assets and configurations.
Service Level Management — to track and manage service level agreements (SLAs) and service level objectives (SLOs).
Knowledge Management — to store and share information and best practices among IT staff.
Self-Service Portals — to allow end-users to submit requests, track status, and access information.
Reporting & Analytics — to provide insights into IT performance and service delivery.
Mobile Accessibility — to allow IT staff and end-users to access ITSM tools on the go.
Integration with other tools — to facilitate integration with other IT tools and systems.
Having these tools in place can help organizations to improve their IT service delivery, enhance communication and collaboration, and ultimately provide a better experience for their end users.
Incident Management:
Incident Management is a process for managing and resolving incidents (unplanned events or disruptions) that affect IT services.
Using incident management, we create tickets that precisely recreate problems and include any necessary information needed to solve them as soon as possible. Here how the default template of incident management looks like,
We can alter the fields according to our requirements, and we can specify whether we want the fields to be checkboxes, text areas, etc.
Problem Management:
Unknown underlying causes of one or more incidents are referred to as problems. The goal of problem management is to reduce the negative effects on business of incidents and difficulties brought on by faults in the IT infrastructure and to stop events connected to these errors from happening again.
To accomplish this, Problem Management looks for the underlying causes of incidents before taking any necessary steps to make improvements or remedy the situation. The below image shows what the problem management template looks like.
We can assign the ticket to the associated Technician after creating the issue with all relevant details so they can deal with it as soon as possible.
We can assign the tickets to the technicians as follows,
Change Management:
ServiceDesk Plus is a helpdesk software solution that has a change management module to control and track changes to IT systems and services. This module allows IT teams to:
Submit and approve change requests
Assign change tickets to responsible personnel
Schedule and prioritize changes
Document and track change history
Implement change and evaluate its success
By using the change management module, IT teams can ensure that changes are planned, implemented, and reviewed in a structured manner, reducing the risk of adverse impacts on IT services.
We may also schedule the change management to avoid maintenance during the day and effectively improve IT management. What the Change management template looks like is shown in the below image.
Configuration Management:
ServiceDesk Plus includes a configuration management feature to help manage and track IT assets such as hardware and software. The configuration management module in ServiceDesk Plus allows you to:
Track and manage hardware assets such as desktops, laptops, servers, and printers
Track and manage software assets including licenses and installations
Automatically discover and add assets to the CMDB (Configuration Management Database)
Track changes to assets, such as software upgrades or hardware replacements
Generate reports on asset utilization and inventory
Facilitate IT asset retirement and disposal processes
Overall, the configuration management feature in ServiceDesk Plus helps organizations to effectively manage their IT assets and ensure compliance with industry standards and regulations.
The below image gives you an idea, of how the Assets have been stored in the Configuration Management Database (CMDB).
Service Level Agreement (SLA):
A Service Level Agreement (SLA) in ServiceDesk Plus is a set of promises made by the IT service provider to its clients regarding the quality and timeliness of support services provided. It outlines the standards for response time, resolution time, and availability for different types of incidents and service requests. The SLA is a key component of IT service management and helps to ensure that clients receive the level of service they expect and deserve.
These are the key factors in an SLA are,
Response time: specifies the maximum time for the IT service desk to acknowledge a request for assistance.
Resolution time: outlines the maximum time it should take to resolve an issue, starting from the time it is acknowledged.
Availability: sets the target hours of operation for the IT service desk and its availability during those hours.
Priority levels: defines the criteria for assigning priority levels to incidents, and the corresponding response and resolution times for each level.
Communication channels: outlines the preferred methods for communicating with the IT service desk, such as email, phone, chat, or self-service portal.
Escalation procedures: defines the steps to be taken in the event that an incident is not resolved within the agreed-upon timeframe.
Reporting and monitoring: details the frequency and format of performance reports, which should be regularly reviewed to ensure that the SLA is being met.
Continuous improvement: commits to regularly reviewing and updating the SLA to ensure that it continues to meet the changing needs of the client.
How the SLA template looks is shown in the below image,
This post concludes part 1 of the series and the remaining chapters will be covered in part 2. Hope you find this blog informative. Let us catch up in part 2 in the near future.
Until then bye-bye.