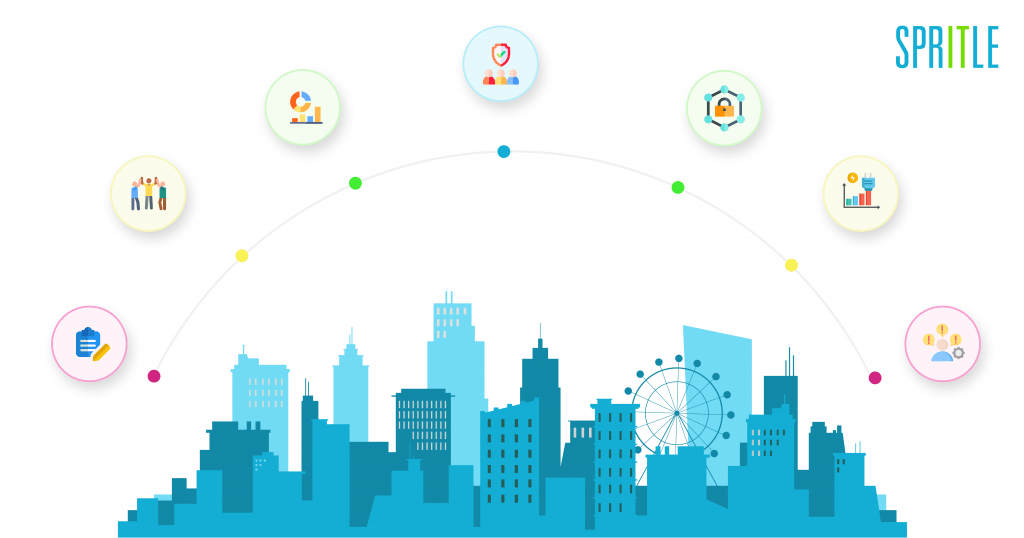 Smart Buildings and Cities have pivoted in growth ever since we got acquainted with IoT and other technologies. Today, they have an even wider popularity among people; have you ever considered transforming your building or offices into Smart Buildings with Building Management Systems? And have you ever let that imagination move towards thinking about what is the ROI of Integrating a Building Management System in your building?
One thing we can be sure of is that implementing BMS in a building is no longer a challenging task. And as the tech scape keeps improving, let's look into some of the most worthy ROIs you can get out of Building Management Portals.
Building Management System – What is it? And Why Learn About It?
A Building Management System is Smart and a comprehensive platform that comes in handy to a lot of people like Facility Managers, Support Teams in an organization, and technicians to maintain and manage the building from all horizons. It holistically brings all the inputs and data from different systems and subsystems of your building and presents it in a simplified and insightful manner. From the status of the electrical lines to the lights fixed in a corner, the Building Management System monitors your building with the help of the series of IoT sensors you have installed in your building.
Integrated Building Management Systems – Figure out yours!
Integrated Building Management Systems give you the superpower to monitor your building at all times. Therefore, figuring them out for your building management leaves you with the privilege to achieve operational excellence. It opens the door for automation and empowers you in many ways.
It streamlines your building maintenance tasks and keeps them easy for you to track. From analyzing the changes that happen at every nook and corner of the building to assigning tasks for your maintenance teams, everything gets easy when you implement it.
Having a trendy and technologically advanced BMS will help you to stay ahead in building management and keep your building future savvy at all times.
While these are just the generic benefits and reasons why you should know about Building Management Systems, let's get to the core of the noteworthy ROIs you can get after implementing an integrated Buiding Management System.
ROI of Integrating Building Management System
When it comes to the ROIs from the implementation of a tech-savvy and efficient integrated BMS, it all depends on the age and type of the building that's involved. For example, you could be a smart building owner trying to update your existing BMS Portal or an enthusiast trying to upscale your building both digitally and technically, in both cases the ROIs will differ.
Noteworthy ROIs We Can Achieve With an Integrated Building Management System
Sustainable Energy Consumption
Implementing an Integrated BMS for your Smart building will bring down the energy consumption of your whole building and keep all your IoT and other Smart devices for energy monitoring connected to a single platform.
In this way, you can channel and manage your energy consumption toward sustainability and reduce your energy expenses to power your building.
Improved Operational Efficiency
Having an integrated BMS portal will improve operational efficiency by keeping all the internal teams for building management well-connected and assist them in thoroughly following the plan to perform periodical maintenance on all the assets, systems, equipment, and other things involved.
Enhanced Communication
Since Building Management System comes with highly scalable features like a centralized platform and mobile and web applications for everyone in the building to leverage and track all the faults and changes that keep occurring in the building, it breaks down the communication barriers between the maintenance team. And speeds up the phase of fault resolution.
Real-Time Data and Analytics
Now, imagine a scenario where you have a clue about where things went wrong in your building, and instead of following different teams for inputs on resolving a management issue,
You have just one platform and accurate real-time data to get things back to form. This is exactly what you can get as an ROI after implementing a novel Building Management.
Enhanced Security
Having an enhanced Integrated Building Management System elevates the security of your building from all sides by bringing deep insights into the alarms that might not cross your eye without a BMS portal. It enables you to manage your building through predictive maintenance and keeps you well-informed about the status of the assets in your building at all times.
The Tech strategizes the Building Management
One of the most beneficial ROI of keeping your building monitored with a BMS is the speed with which it can strategize your building management tasks with automation and other tech-savvy approaches for the same.
Occupant's Comfort
Transform your building with a BMS solution. It will pave the way to elevate occupants' comfort and productivity within. The BMS will ensure seamless building management, thereby keeping your building flawless all the time.
So, we have listed the most noteworthy ROIs that could be achieved by implementing an Integrated Building Management System. We hope you have identified the set of ROIs you wanna achieve out of the BMS implemented in your building.
A Non-Disruptive Approach Towards Building Management -How Can We Help?
Introducing and Upgrading Building Management Systems in your Smart homes and buildings would involve huge capital and more complex integration steps and could be disruptive. Our Integrated BMS solutions choose to make a difference here and help you keep your building management portal efficient.
Our solutions are highly scalable and customizable and have a knack for integrating all your multi-portals of vendors, HVAC Systems, IoT sensors, and much more into a consolidated platform for you to leverage. It, on the whole, becomes your best ally and friend in managing and maintaining your building.
That said, take a less disruptive and cost-effective approach to make your building Smart and future-savvy with our Building Management Solutions.