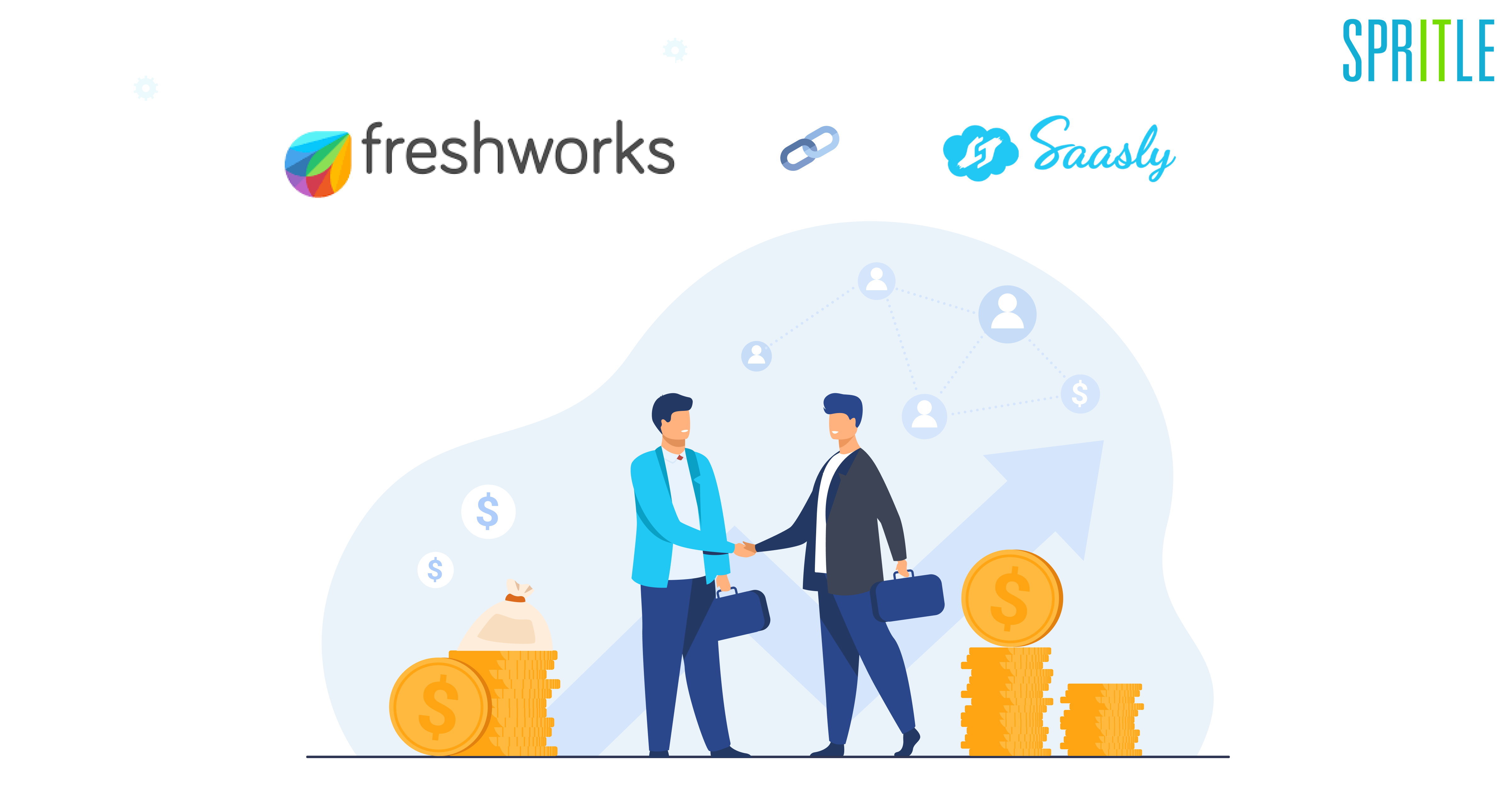 Spritle software is a 14-year-old IT company specializing in advanced custom integrations, paid apps, portals, and digital solutions. They are an interdisciplinary team of coders, analysts, and user experience specialists dedicated to building enterprise applications and premium digital products that bring ideas to life. 
We spoke to Abinaya Gunasekaran, who leads the SaaS solutions business division Saasly at Spritle Software. She has been with the Spritle software team for over two years and has over a decade of experience in the IT industry. Abinaya helped us understand how Freshworks played a pivotal role in forming the Saasly division at Spritle Software.
Pursuing the Freshworks' Paid Apps Program opportunities for YoY growth
Spritle Software's association with Freshworks began way back in 2015 when a Freshworks employee presented them with an opportunity to build a custom app for a Freshworks customer. The initial association eventually led them to leverage various opportunities on the Freshworks marketplace including the paid apps program to achieve about 30% revenue for their business division Saasly in 2022.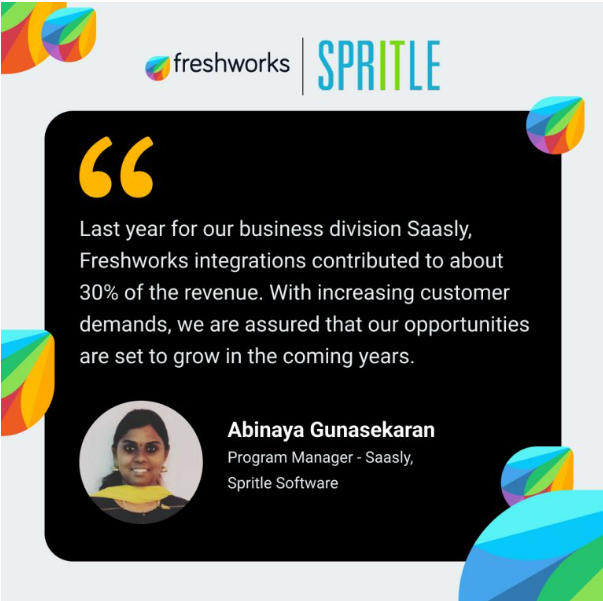 Spritle regularly interacts with Freshworks representatives to gauge the market and understand the demand for several integrations. After building several custom integrations, they started evaluating ways to leverage the Paid Apps Program to enhance their recurring revenue streams. They got in touch with the Freshworks team to identify use cases and then brainstormed on their own to evaluate the best app to build for the Freshworks customers. After much deliberation, they chose to build the Playstore – Freshdesk for mint app as they saw many businesses struggle to reply to reviews and ratings across various platforms including the playstore.
Over the years, they have built over 200+ custom applications and 40+ marketplace apps for the Freshworks Marketplace including; Youtube – Freshdesk for mint, Playstore – Freshdesk for mint, and Freshdesk Google My Business. While they have built many apps, here's more on their most successful app on the Freshworks Marketplace – Playstore – Freshdesk for mint.
Playstore – Freshdesk for mint
The Playstore – Freshdesk for mint app streamlines the process of addressing playstore reviews, making the process simple, seamless, and efficient. Once a review is posted on the playstore, the integration immediately creates a ticket on Freshdesk and assigns it to an agent.
Using Freshdesk and the Playstore – Freshdesk for mint integration companies can deliver personalized messages on the right channels. From the biggest retail and financial giants to small startups, this integration is helping hundreds of customers extend Freshdesk capabilities to create an Omni channel experience.
"The Freshworks Marketplace is really great as a lot of applications that we want to integrate are readily available. We are using apps such as Playstore – Freshdesk for mint, and Google My Business from the Freshworks Marketplace. We were able to install the applications and go through the setup quickly, which was terrific!" – Farrah Abdurahman, Digital Experience, FinChoice
While building the paid app, as a part of the Freshworks Paid Apps Program, the Spritle team was able to connect to Freshworks' growing global customer base. They were also able to leverage several resources including the readily available use case documentation, clear code review guidelines, crayons, and more. Here's more on how all the readily available resources impacted the company at large.
Enabling support globally
Playstore – Freshdesk for mint is used by Freshworks customers globally. To support Freshworks customers 24/7 Spritle expanded its offices globally with the revenue growth achieved through the paid apps program.
"What started as a 2-member team in Chennai, now has expanded to a 15+ member team globally primarily dedicated to building integrations for Freshworks. " – Abinaya
Improving the security and safety measures
Freshworks is committed to implementing and practicing security controls to ensure information systems and customer data are protected. To help developer partners build reliable apps, we provide clear guidelines that focus on async/sync control flows, logging best practices, error handling, and code minification.
"We receive continuous learning support through the Learning Portal, and our experts are all authorized developers for various Freshworks products. Clear code review, app content, and style guidelines have all helped us build paid apps faster for the Marketplace. We now follow and implement the guidelines for all the integrations we build." – Spritle's Tech Team
Leveraging Crayons to build Paid Apps
Freshworks provides access to crayons, an Open Source design library for Freshworks developers. Crayons offers control and flexibility through pre-built components to create consistent, stunning interfaces with the Freshworks product design in mind.
An engineer at Spritle software remarks, 'Crayons is fantastic, primarily because it helped us replicate the design system of Freshworks and make the UI component work and feel native'.
What's Ahead for Spritle Software
As the team grows globally, Spritle Software looks forward to building more paid apps and custom integrations for Freshworks customers. "We're discovering new opportunities with Freshworks' 50000+ customers every day. It's a very important time for us as more and more companies across the globe want custom integrations coupled with Freshworks products. As a team, we're all thrilled to help more customers by building the next big app for the Freshworks Marketplace." – Abinaya
Source: Freshworks