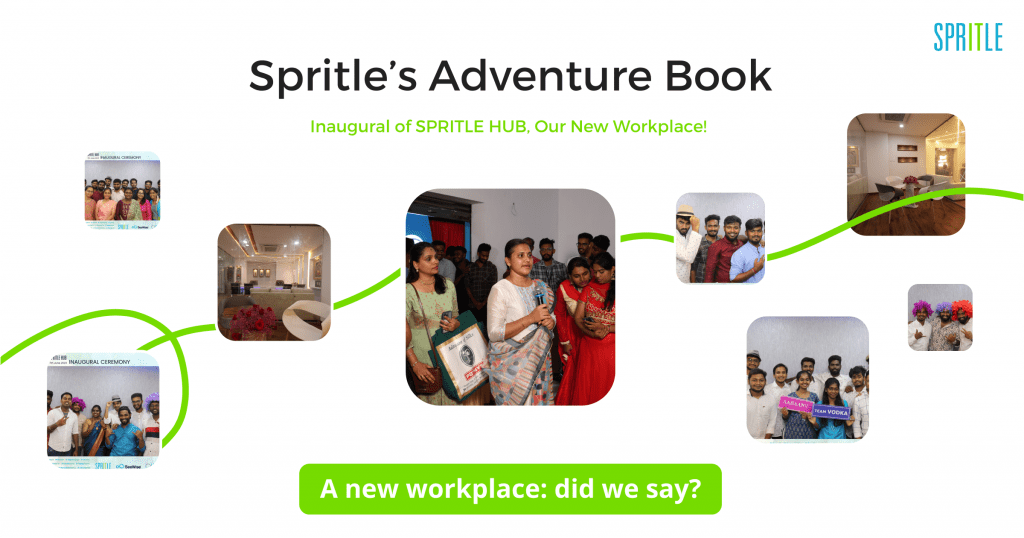 Hey there! After so much suspense in the air on what SPRITLE HUB is all about on our social media pages and many more enigmatic discussions with our internal teams at Spritle, we have finally revealed and inaugurated our new workplace! A new workplace: did we say? In that case, we will need a giant arena to discuss this new dotting development at Spritle. And in this blog post, let's convene together and find out why our new office is one of the best workplaces we have ever stepped in, with an additional note on how it fuels our mission to celebrate diversity in unity at Spritle!
A Collaborative Office Is Where Innovation Gets Sparked!
A workplace is more than just a hub where people gather to chase what they love as a profession! From collaborating with different teams to connecting the dots, it's a place where diverse sets of people unite to accomplish something innovative! And since all such quests start with a spark to think differently and creatively, it needs more collaboration and teamwork. Knowing this slice of reality, our leadership team behind Spritle went ahead with SPRITLE HUB, our new office!
From holding up the promise to strengthen the bonds between our internal teams from Spritle, SeeWise & Saasly to making them chase diverse thought trains into the wild, it holds a profound significance!
A Glimpse Into Our WorkCulture That Endows Let's Grow Together!
Work Culture! Work cultures have always made an impact on a company's growth and its workforce. With changing times and an increasing number of people in Gen Z and millennials at workplaces, it's necessary to have a fascinating work culture that's open and social. At Spritle, we follow a work culture that endows our mission to let's grow together at every step. From Fun Fridays, sporty activities, and Knowledge sharing through SpritXchange to gripping conversations with our leaders, it's always been like "Adventure's out there! And let's get to it as a team and learn the art of working with fun!"
While this is how we work together at Spritle, let's look into our growth for all these years from 2009, the year we started our quest to become an established software company.
Fast Forwarding The Flashback: From a Small Room To Our SPRITLE Hub!
Like most successful stories, our story started in one of the tiny rooms, and as we carved our way into taking up some of the best projects in the industry with our curious team in action, growth came in phases. Some of the noteworthy projects we have worked on include:
Our first big project with United Nations was to build a CMS system in January 2011.
We took the mission to craft an analytical tool with the Living Matrix for practitioners and their patients to interact effectively in January 2014.
With several other projects in the healthcare domain, we have already become stalwarts in building healthcare apps with the best features.
We have built a vehicle and truck maintenance system with Reach24.
We have embarked on making digital transformation plausible for several organizations and companies. And here one of the noteworthy quests we succeeded in crafting a fault management solution for Southeast Asia's largest Airport.
We got listed as one of the best integration partners of ManageEngine in 2022. With many more milestones and achievements to reach and a growing workforce of more than 150 people, we believe an innovative hub is all we need to make things happen!
The Pandemic, WFH, and The Longing To Return To Office
When the pandemic hit India and the rest of the world, we, like many others, were confined to working indoors. Although we shifted our work culture online, it was during this time that our journey to build SPRITLE HUB began.
Working from home, online Zoom meetings and long telephonic conversations with our team members became the norm. While this remote working model had its limitations, as time passed, we yearned to bring together our teams from SeeWise and create a more vibrant and enjoyable workplace.
And with Return to Work becoming a very trendy wave of 2023 in big tech companies like Google, Meta, etc., it's no wonder that our new office is acting as the best catalyzing agent at Spritle to help our teams to get back to work with ease and excitement.
Here, readers! We would like to borrow the words of our leaders behind Spritle to glorify what this innovative hub means to us!
SPRITLE HUB Through The Vision of Our Leaders!
The vision of our leaders has always taken us ahead on the path of innovation. That said when we asked them to define their vision for the future and describe what this initiative to move to a new office means to them, here is what they shared!
"A time before Covid disrupted our lives. Just like the term before time, the pandemic has made a way that didn't exist before. From phrases like WFH, doom scrolling, and attending Zoom meetings becoming an integral part of our existence, SPRTILEANS have demonstrated their collaborative work and strength during the pandemic. Kudos! But gone are the days of WFH. With the grand opening of SPRITLE HUB, we can do something extraordinary through learning and sharing incredible experiences, chasing the path of compassion and courage, and thinking differently and creatively. Let us collaborate again like never before and show the world how we build resilience in the face of existential and future threats." said Shankar Chandrabalan, our Product Manager at Spritle.
"We have always believed in the power of 'Growing Together,' and the SPRITLE HUB is an important milestone towards it. We believe this will help us enjoy the workspace better and work more collaborative, creatively, and innovative. This is just the beginning!" shared our CEO, Manogar Loganathan.
When we asked Surendran S, our CTO, he said, "Spritle, SeeWise & Saasly, even though we all tinker with diverse and cutting-edge technologies from different domains, our mission has always been to deliver and serve the best Smart solutions for people. And, at our hub, we believe our mission will be more effective with more interactions, boundless energy, and teamwork!"
Now, having shared the chunks of insightful thought trains from our leaders, it's time to sync into the celebrative vibes of the big inaugural day of our new office and revisit the glimpse of festive delights we shared as a team!
The Inaugural: A Red-Letter Event in Our Adventure Book!
So, with festive vibes cheering us ahead and happiness flowing from the bottom of our hearts, we all gathered in our new workspace with one mission for the day! The mission is to celebrate the inaugural day of SPRITLE HUB with our dignitaries, clients, teams, and well-wishers! From rejoicing over the victory of bringing all our business divisions SeeWise and Saasly together to thanking our clients for making this happen, we had a spectacular day filled with happiness, gratitude, and a renewed spirit to chase our dreams! That said, marking this spectacular day as one of the best milestones in our adventure book, we asked some of our team members to define what it means to be at the inaugural with Spritle, and here is what they wanted to say!
"In 2015, I joined Spritle as a Junior developer. At that time, Spritle had a team of 25+ people. It is a very friendly environment and the company culture placed equal importance on work and personal life, which fostered strong bonds between the People and the company. This is one of the reasons why many people have been working at Spritle for a long time, as they value the positive relationship and connection with Spritle."
-Siva KB, LM: Tech Lead, Spritle Software.
"Spritle has been my home for professional growth and learning. It's the place where I started my career and have been fortunate to work on diverse projects, gaining valuable experience along the way."
-Mohammed Rashid, Software Developer Executive, Spritle Software.
"Spritle provided me the freedom to go beyond and do what is needed. I am grateful for the trust that let me experiment with new ideas and make decisions that are best for the company."
-Harishankar Durairaj, Head of Product, SeeWise.
"Spritle gives me the real opportunity & freedom to utilize innovative business strategies and continuous learning and empowers me to unlock my leadership potential."
-Abinaya Gunasekaran, Program Manager, Saasly.
"Spritle is one of the best places for growth and innovation. The slogan 'Let's grow together' resonated with every step of my career journey here!"
-Santh Kumar Tadi, Research & Development Team Lead of SeeWise.
Chasing the Future From The New Office!
With our new office already inaugurated and our inner spirit to chase the ongoing projects with vim and vigor, we have a conviction SPRITLE HUB will ignite the road to more tech-savvy adventures. From bringing our internal teams together to paving the way for more creative and innovative quests, it is one of the most cherished milestones we ever crossed! And readers! Shifting to this new office is just the beginning of celebrating unity in diversity at Spritle!