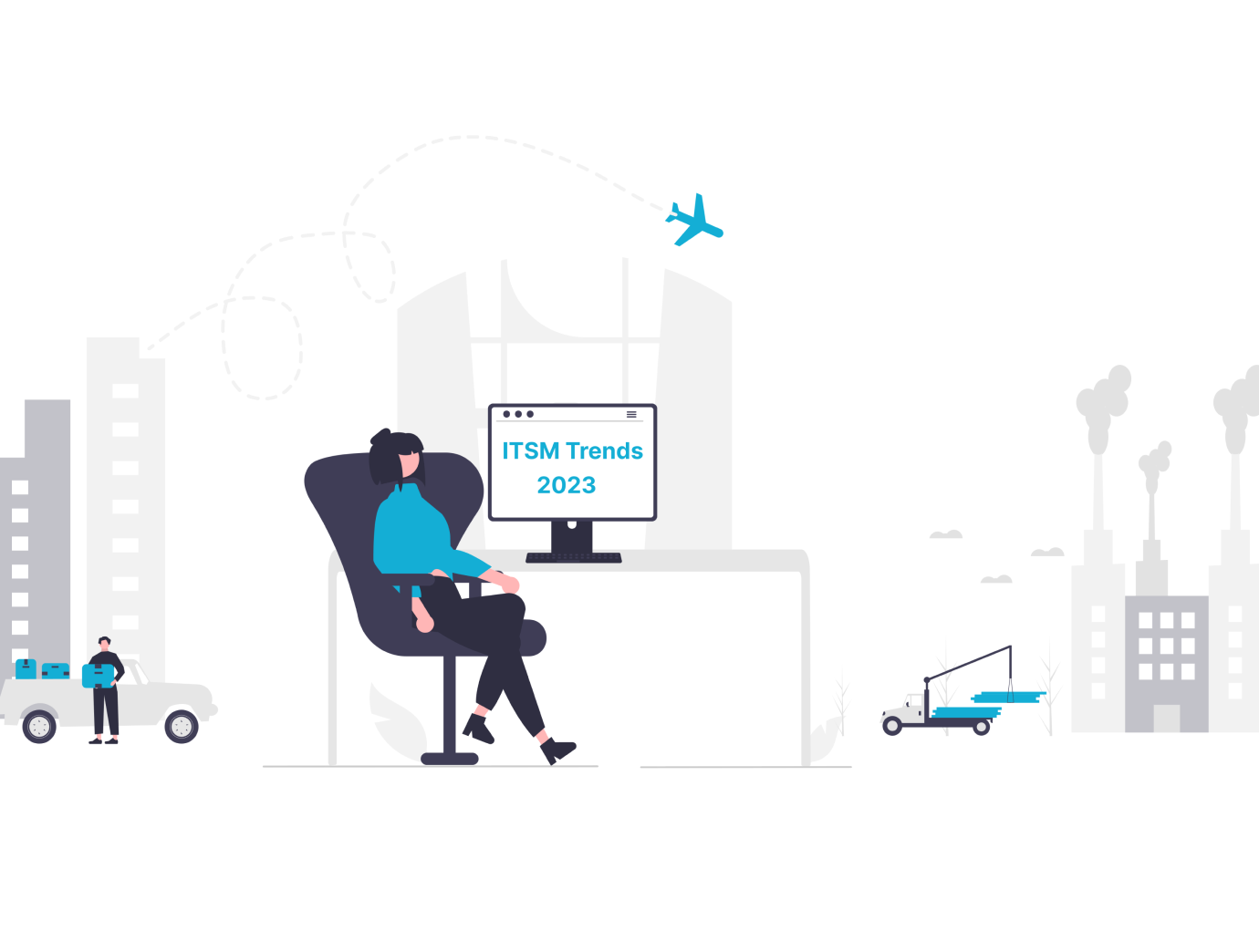 Hey everyone! Finally, after a big New Year party and an eventful first month, we have stepped into February 2023. So, with yes to so many new New year resolutions and business goals for companies to chase around, the days of this year are already on the roll. So, without further ado, let us discuss the top 5 ITSM trends to focus on in 2023.

Why the spotlights on ITSM trends in 2023?
ITSM stands for IT Service Management and denotes all the activities, strategies, policies, and attempts a company makes to implement, improve, and deliver better IT services for its stakeholders, customers, and employees. From determining the efficiency and productivity of the company to keeping everyone stress-free about complicated tasks(like change management, asset management, etc.), it contributes to its overall growth in many ways. That said, the list of top 5 ITSM trends to focus on in 2023 always changes based on several parameters.
That said, ITSM has always captured the business world's imagination when handling the constant changes that keep happening. For instance, this year, the aftermath of the pandemic and the growing popularity of hybrid work models in several workplaces have made ITSM one of the most impactful and much-focused business agendas.
Benefits of having a tab on current ITSM trends
Some of the best benefits of focusing and working on current ITSM trends include,
i) It helps companies to understand user needs
The user needs of employees and customers of business forums have drastically changed since the pandemic. Today, employees prefer hybrid work models and personalized IT support services to resolve their issues and have an affinity towards mobile-friendly IT services. Therefore, in-depth knowledge about the current trends and needs in IT service management will serve as the roadmap to improve IT services and empower users in companies.
ii) It makes the assessment of IT services easy
ITSM determines how well a company aligns its business goals with IT services and caters to user needs from all aspects. That said, having a tab on current trends in ITSM can help everyone in a company to understand their roles and contribute to the overall progress of the company.
iii) Helps in unleashing seamless Change Management in companies
With new IT tools and tech trends taking the business world by storm and reinforcing disruptive changes everywhere, if you are someone working in business management in making significant changes in the ITSM domain this year, then keeping yourself well-versed with ITSM strategies will help in unleashing seamless change management in organizations.
That said, from aiding the employees of a company to learn new tech tools to keep them updated with a knowledge base that has relevant materials and training resources, ITSM, when aligned with modern trends, can bring robust and seamless change management in companies and organizations.
iv) Drives IT teams to become strategic
Tracking the current ITSM trends of 2023 will help IT teams in companies to deliver their IT support services efficiently and empower them to take a strategic and data-driven road toward IT service management goals.
Now, having seen the most crucial benefits of knowing about ITSM and its trends, let us dive into the list of the top 5 tech trends that will influence ITSM goals of companies this year.
Top 5 ITSM Trends To Focus on in 2023
Employee experience in IT services
From identifying the IT services that help employees at work to the ones that hinder their progress, employee-centric ITSM services not only aim to understand the employees' take on the IT services offered to them but also use this information to bring the needed changes in the ITSM structure.
Some of the perks of employing employee experience management in analyzing ITSM include:
It throws light on the qualitative aspects of the IT services offered.
It calibrates the efficiency and performance of the IT operations provided.
Tracking the success of the already implemented changes in ITSM.
Automation, Artificial Intelligence, and Machine Learning
Having a blended impact on IT services management, automation, artificial intelligence, and Machine Learning has made striking changes in how IT services are delivered today. From bringing consistency to optimization, these technologies have added value, quality, speed, and cost reduction to IT services.
While this is a generic perspective, Intelligence Automation, an emerging field that combines Workflow Automation, AI, and Robotic process automation, has become a trendy approach to improve ITSM services in 2023. Intelligence Automation has been helpful for companies to analyze the data captured/recorded by the ITSM software. That said, some of the benefits of employing Intelligence Automation in ITSM include,
Automates most manual and repetitive tasks; and saves time for the IT team and users.
Reduces the cost needed for ITSM implementation and maintenance
Extends the service timings through Chat bot and other AI applications 24/7
Encourages the company to take a data-driven approach toward decision making
Renovating IT self-help services
And driven by several sudden changes in employee needs fueled by the post-pandemic days and inclination towards remote work models, renovating IT self-help services to the current employee needs has become an emerging trend of 2023 in ITSM.
The core focus behind this trend is to make IT self-services easier and quicker for employees to leverage them to their needs. One more striking thing is it involves the usage of intelligent automation to make this possible.
Data-driven approach toward ITSM operations
When it comes to qualitatively improving IT operations and services for the changing user needs, it's crucial to take a data-driven approach. From prioritizing what matters the most to analyzing whether the changes made have resulted in significant improvements everywhere in service management, a data-driven approach will act as a game changer.
For instance, Employee satisfaction feedback and surveys could throw a plethora of insights into how well the IT support services help them and point out the core problems that give a negative employee experience for them.
Fueling digital transformation through Enterprise Service Management
Enterprise Service Management, as we all know, is the use of ITSM abilities for other segments of an organization other than IT.
Now, when the corporate world got ambushed by the pandemic and confined all it's working days to remote working, the technologies used in ITSM have proven to be efficient in helping employees. That said, according to the recent statistics from a polling result on ITSM trends, Enterprise Service Management has emerged as one of the top 5 ITSM trends to focus on in 2023.
Therefore, this trend to use Enterprise Service Management for substantial digital transformation has become one of the best ITSM trends of 2023.
Conclusion
Now, readers, these are the top 5 ITSM Trends to focus on in 2023. But, since it's too early to point out which trend in this list will be more influential this year, you have to take your guess to get the best results.