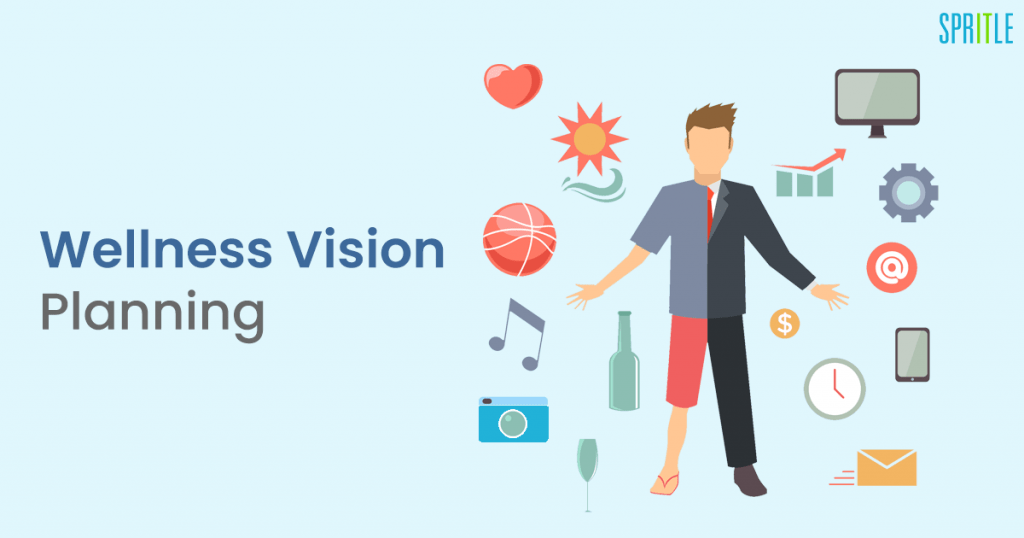 Hi all, Happy day. This blog is about a new concept from one of the very famous psychotherapies called Neural Linguistic Programming (NLP). Let me start by giving an introduction to it.
Most of us might look very happy and successful externally but there is always a deep emptiness in our subconscious mind. People might miss their school days, college life, night stays with friends, family outings, kids, fun time, month-end movies, etc. But none of us are aware of how to fill this emptiness. Because, in this mechanical world, we are very busy in our daily routine.
We don't have sufficient time to assess whether we live our lives in a balanced way or not. Especially in a fast phased industry like Information Technology, we are tightly coupled with our daily tasks. Most of us are not satisfied with the way we balance our life.
Now let us get into the concept called Wellness Vision Planning also known as Wheels of Life, which will help us to live a balanced life.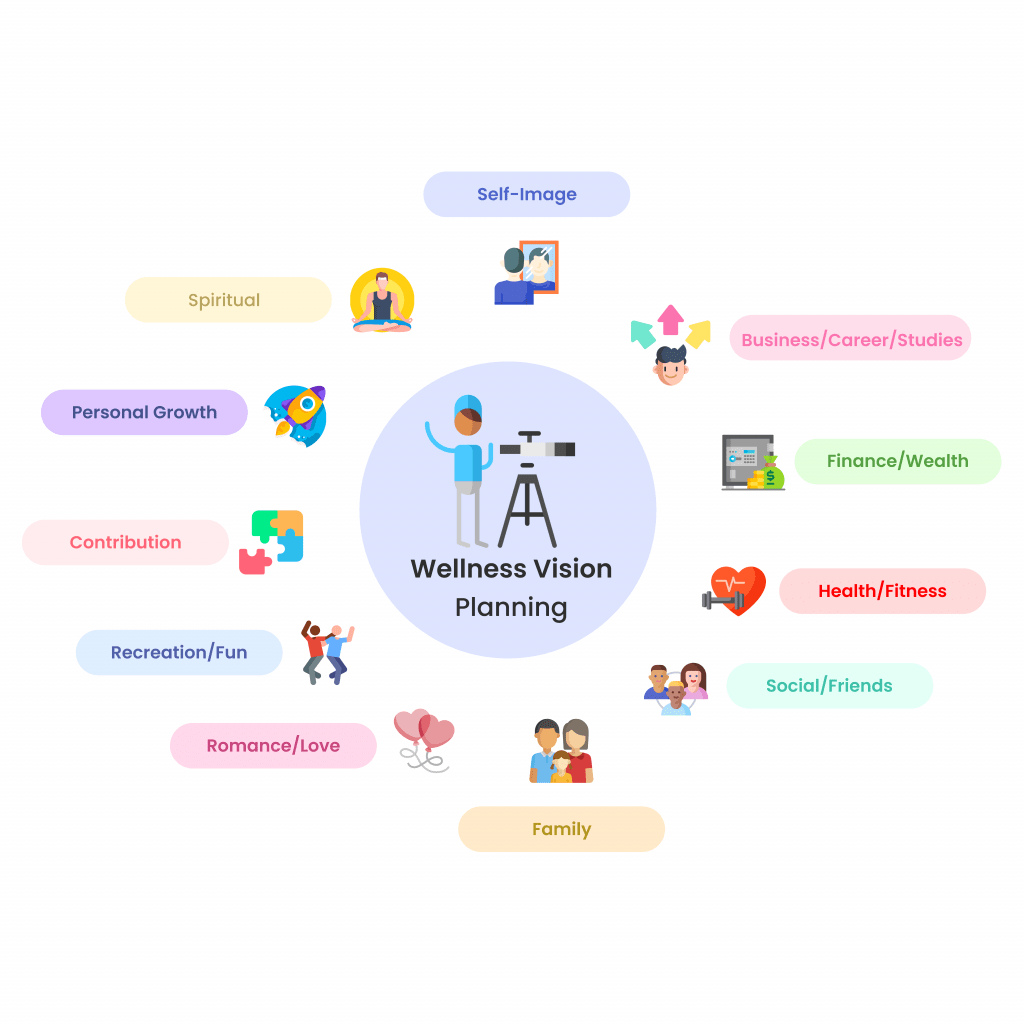 The above image depicts the concept of Wellness Vision Planning. As per the Wheels of Life concept, we can categorize/split life into 11 major segments. They are
1) Business / Career / Studies
2) Finance / Wealth
3) Health / Fitness
4) Social Life / Friends
5) Family
6) Romance / Love
7) Recreation / Fun
8) Contribution
9) Personal Life
10) Spiritual
11) Self-Image
Let us have a detailed view of each segment one by one.
LIFE SEGMENT- 1: BUSINESS/ CAREER/ STUDIES
It Includes
Business/ Career Plans
Business/ Career Growth
Upskilling knowledge (Training)
Future Learning Plans (Higher Studies/ Certifications/ Exams)
Getting guidance from experts
LIFE SEGMENT- 2: FINANCE/ WEALTH
It Includes
Your Salary satisfaction
Investments (Education, Health Policies, Gold Plan, Finance schemes, Land investments)
Planning for extra income
Taking care of existing assets (maintenance)
Saving Money via FD & RD
LIFE SEGMENT- 3: HEALTH/ FITNESS
It Includes
Doing exercise, going walking regularly (taking care of physical health)
Doing Yoga regularly (taking care of mental health)
Taking medication if required
Identifying and resolving both physical & mental issues in the early stage
Nutritious food intake & diet plans
LIFE SEGMENT- 4: SOCIAL LIFE/ FRIENDSHIP
It Includes
Actively involved in social life events (attending birthday parties, marriages, and other functions)
Going for an outing with friends
Sharing your highs & Lows with friends and supporting each other
Connecting with friends frequently (to distract yourself from stress)
Maintaining a buddy gang in each arena of social life
LIFE SEGMENT- 5: FAMILY :
It Includes
Taking care of family members (assisting old age people to take medication regularly, taking them to hospitals if required, assisting the kids to learn, and providing moral support to all)
Spending time with family members and relatives
Going for outings with family members and relatives
Celebrating festivals and functions with family members
Planning to help parents in their daily routine
LIFE SEGMENT- 6: ROMANCE/ LOVE
It Includes
Leading a happy personal life
Spending time with life partner/ children
Spending time for passion
Identifying personal needs and fulfilling them by taking required actions
Executing personal plans
LIFE SEGMENT- 7: FUN/ RECREATION
It Includes
Playing games
Watching movies
Listening songs
Conducting fun events in the workplace and home
Going for Outings (visiting favorite places)
Spending time with pets
LIFE SEGMENT – 8: CONTRIBUTING BACK TO THE SOCIETY
It Includes
Planting trees
Taking part in Social-welfare activities
Helping poor/disability people by conducting CSR (Corporate social responsibility) events at the workplace
Conducting knowledge-sharing events in your school and College to help your juniors as an Alumni
Forming a social activist group with your circle and helping the society
LIFE SEGMENT- 9: PERSONAL GROWTH
It Includes
Planning to get married at the correct time
Taking care of your mental peace
Buying your own house/car
Investing money and time in a better way
Taking care of personal relationships
LIFE SEGMENT- 10: SPIRITUAL LIFE
It Includes
Visiting temples/churches/mosques frequently
Actively involved in spiritual activities(Prayers/ Poojas)
Celebrating religious festivals
Going for religious outings
Forming buddy gangs in religious places(excluding family members, relatives, and friends) and spending time with them
LIFE SEGMENT- 11: SELF-IMAGE
It Includes
Improvising your communication, way of responding, behavior, the way you approach people, dressing sense, presence of mind
Presenting yourself physically and mentally beautiful
Being independent
Overcoming your weakness
Being intelligent & helping others
Now we have got a clear picture of the wheels of life with the help of these 11 detailed segments. It's time to assess our balancing level.
Let us try a small activity:
Follow the below instructions given below:
Take a new white sheet and pen.
Now rate each segment of your life on a scale of 1 to 10 (where 1 is the minimum level and 10 is the maximum level).
Take at least 2 – 3 mins to rate a single segment (around 30 mins in total)
Take this activity when you are alone in a relaxed situation
You need not share this sheet with anyone, it is only for self-assessment purposes
Rate all the segments honestly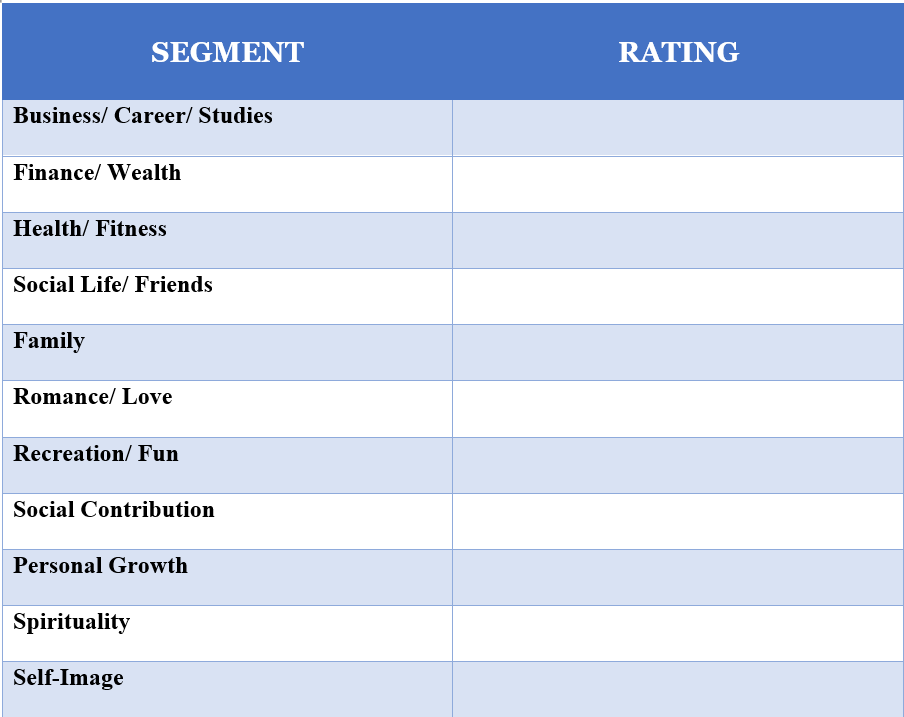 Once if you are done with the activity, relax (for 5-10 mins) because you were in deep thinking at least for the past 20 mins. Now take the sheet.
Count the number of segments where the rating is less than 5 and fill them under the need attention category.
If the rating is exactly 5 or 6 then fill them under need progress.
If the rating is above 6 then fill them under the satisfied category.
For Example :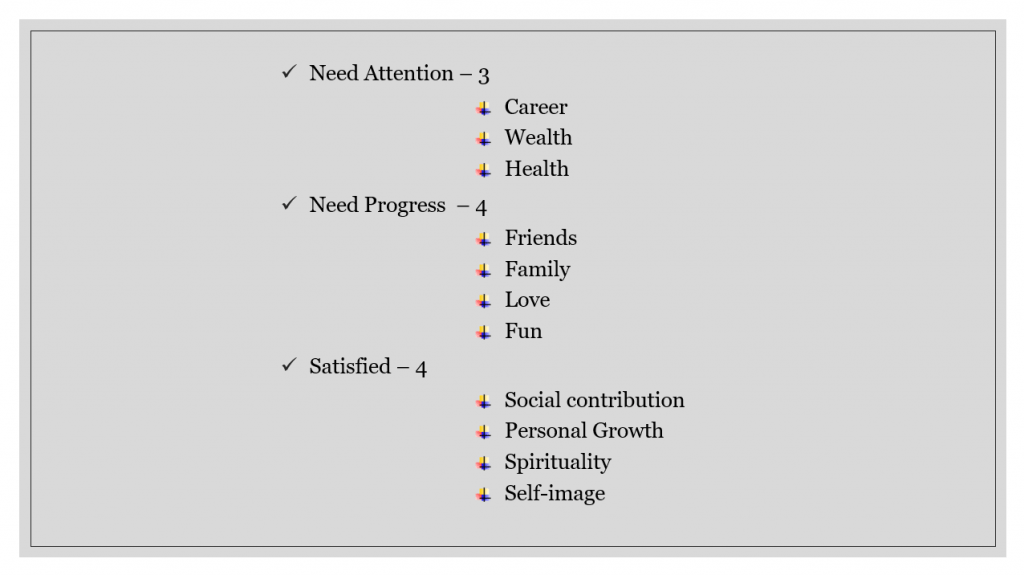 Now it is time to have a look at your need attention and need progress segments. Take today as day -1 and prepare a small action plan to score better next time in the need attention and need progress segment and execute them daily. Identify your short-term and long-term goals for these segments and achieve them one by one.
Try to take this assessment frequently (at least once a month) to track your progress level. Share this wonderful concept with your surroundings and help them to balance their life in a better way.
If you honestly implement this technique you can see some better changes in your life. It would help you to live your life happily.
As a result, you can show high performance in your official & personal life. If we are happy, we can make our surroundings happy, if all the surroundings are happy then the entire world will be happy.
Let the change begin with you. All the best!
Happy Day 🙂!