I recently had a chance to read the book "Elements of Success : Business" authored by KOH SENG CHOON. I have read many books related to business motivation & personality development, but this book stands out from many of those.

My brother gifted me this book and I immediately finished reading it. Its a pretty small book that you can finish in one sitting. Though the book is small in size, it may give you the complete essence that you would get by reading a big size books.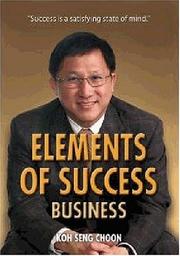 There is lot of wisdom in this book. The book that continues and expands the fable of the young guy and the old man. The Author has done a great job of breaking down the factors that one would need to be more successful in their business or venture. To be more precise… this book will cooly tell you how Love + Time + Knowledge + Money + Health can provide you the chance of Opportunity to achieve the success. While some of the daring hearts (entrepreneurs) might know some of the concept explained in this book, this book will help you get the actual insights of it.
Personally, I don't believe that someone could start a business just because s/he has finished reading some motivational books. This is one of the factor that this book tries to tell you with its cool equation.
Finally…
I highly recommend this book to people who are already in their entrepreneurial path or dreaming to do so.