So we're back with the third chapter of our Employee Diaries series, but if you are new to reading this you can go check out the previous chapters or start from the first chapter.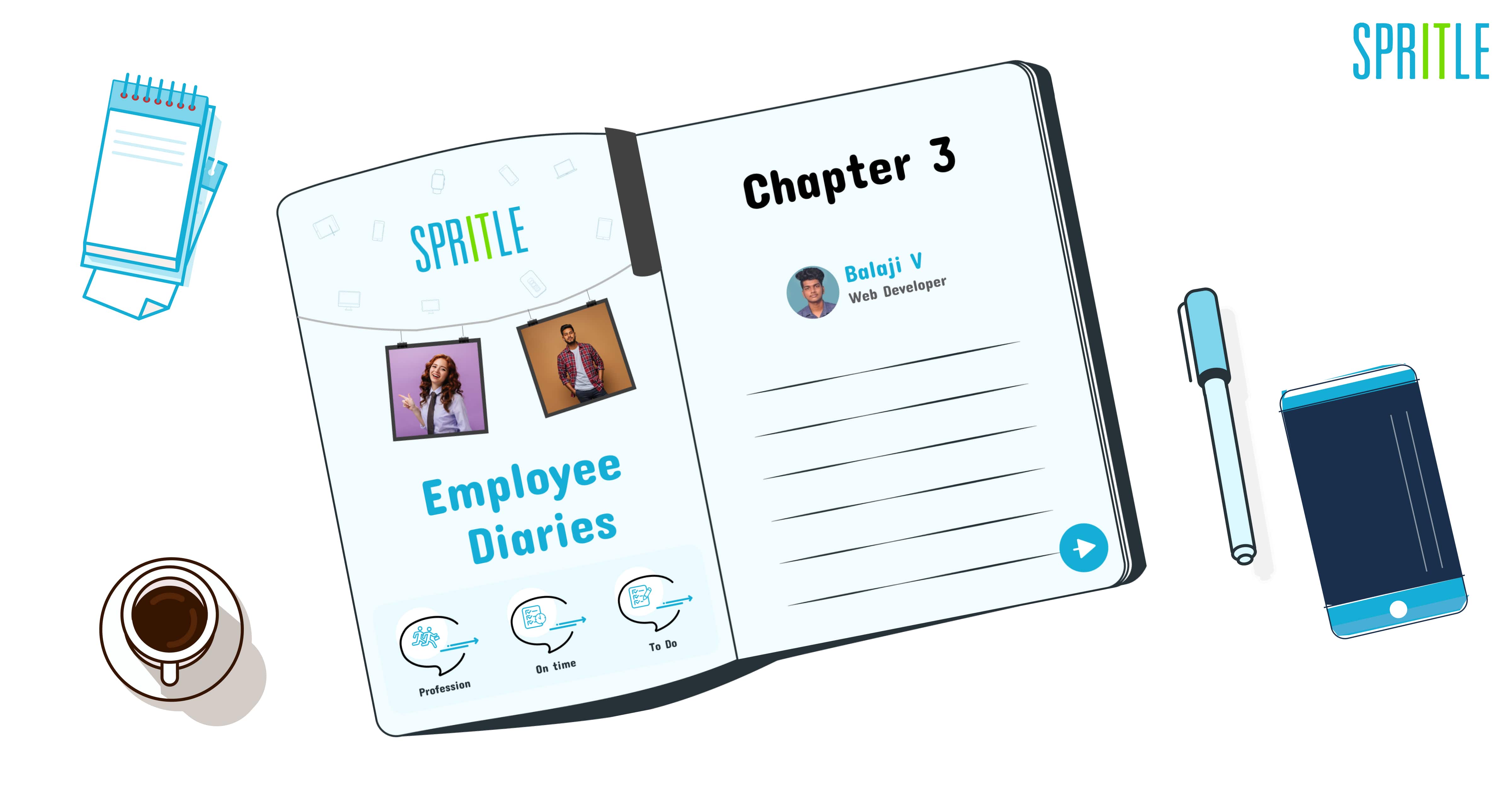 In this chapter, let us see what our fellow fresher Balaji. V, Software Developer Trainee saw in his settling-in period.
BALAJI V (POV):
New Beginning
Getting a job can be as hard as recognizing a shade of lipstick, in simpler terms pretty hard. This was my situation a fresher who left a company cause of no proper guidance with nothing but my resume and hope.
At that exact time came Spritle to my rescue. The entire process took quite some time, but it was worth it, I finally made it.
So for a newbie like me who was lost in the crowd of people who are glued to their screens immersed in their works and the silence was intriguing yet slightly discomforting.
Settling in
Fitting in was a process, given that I was a BBA student, amidst a sea of countless software developers. Well, it was good that Maria, the Digital Marketing Executive worked in the office as well because we knew each other for quite some time and she made the silence a little more bearable.
Had it not been for Rashid, Executive Software Developer, I would have been a lost child in a stationary shop unsure of what stationary was going to be used for. He helped me quite a bit with all my struggles and helped me in all the blockades that I faced along my journey to successfully type a single simple code.
However, I started to get a hang of things, and in the absence of Rashid, Javeed, the Backend Developer helped when I was in a fix.
Mentors for the win
Well, my mentor was Hari Shankar, AI/ ML Tech Lead, he helped me in all my endeavors and has assisted me throughout the early phase of my joining the company. He has been rather supportive and helpful despite the fact I had not been able to perform well.
Nevertheless, he was and is a wonderful mentor for someone who has not had an ounce of knowledge when it came to the software domain.
Making it
So with all that said and done, while it has not been long I seemed to have found my happy place within the company. It helps me grow and provides me with what I need the most: help, assistance, and growth.
Above all I find my company to be a place where I enjoy what I do and have a sense of satisfaction with what I accomplish.
I hope Spritle Software becomes the same happy place for future freshers who will come to accomplish the dream they have been dreaming of every day!