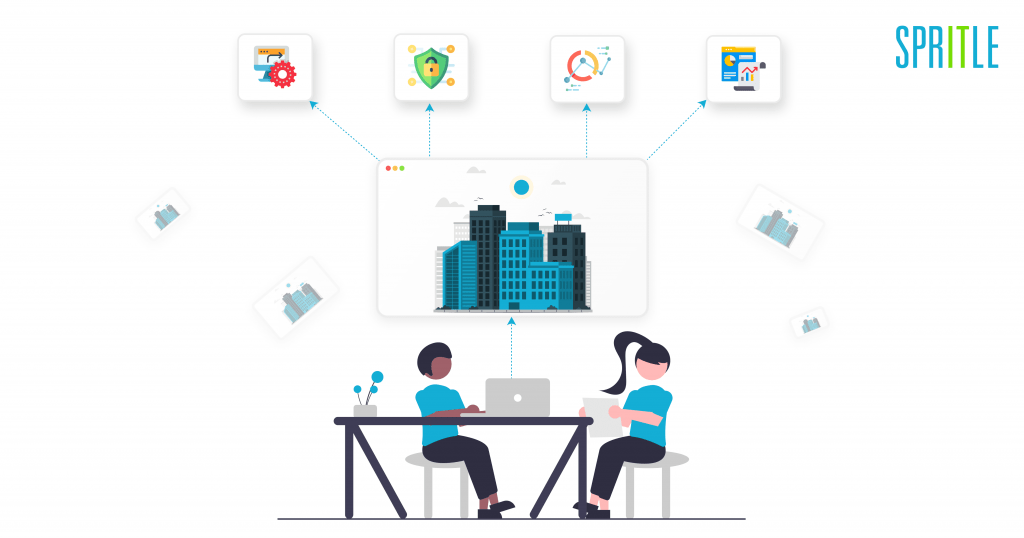 With new twists and turns in the increasingly complex Smart Buildings across cities, it's no wonder we are in a scenario to look back into our Integrated Building Management System strategies and hone them accordingly. If you are pondering how to upgrade and redefine your Smart buildings, this blog is just for you. In this blog, let's explore how Spritle ventured into customizing Integrated Building Management Systems for airports, IT Parks, etc., and went on to resolve some of the prevalent challenges in Building Management.
Too Many Building Management Tasks, Let's Not Fall Into The Chaos
"A Smart building with several systems and teams working together to maintain and manage it without chaos."
Now, does this sound familiar? As familiar and relative as this could be, keeping your buildings as well-maintained as possible is challenging!
Managing a building involves monitoring sensors, assigning tasks to maintenance, and a holistic approach to avoiding chaos. And readers! Here is where an efficient Building Management System comes to play. From bringing street-smart strategies to extra-smart insights into simplifying your maintenance tasks at every step.
Noteworthy Areas Where an Efficient Building Management System Will Act as a Game-Changer!
An efficient and comprehensive integrated Building Management System tends to become a game changer in the following areas
Building Monitoring and Tracking,
Bringing Automation in place of time-consuming manual tasks,
Fault Detection and Management,
Asset Management and maintenance,
Centralizing the data from different sources,
Keeping all the Support Team on the same page,
Facilitating a mobile application for everyone to know their tasks and role very well, etc.,
By bringing these robust changes in these areas, an advanced Building Management System will accelerate the pace by which your teams handle building Management.
So why should your organization look for a BMS portal that could open doors for you to effectively manage your building? And where in this story is Spritle connected, let's find out in the rest part of this article.
Why Get Hold of an Integrated Building Management System?
Irrespective of the size and age of the building we are considering within our vicinity, it's crucial to keep it connected to a well-established Building Management System. In addition to simplifying and automating the managemental tasks, it also enforces a kind of predictive maintenance to your building and improves your decision-making process in building management.
Some of the perks of getting hold of a comprehensive Building Management System are as follows:
Improved Occupant Experience,
Sustainable Energy Management,
Reduction in Maintenance Costs,
Seamless Ticket Management,
Quicker Solutions for Building Management Issues,
Better Analytics and Data for Maintenance,
Results-driving Maintenance plans, etc.,
Spritle's Journey Into Crafting Integrated Building Management Systems
Appealed by the tech-savvy challenges and complications that prevailed in the building management industry, our team at Spritle took the innovative road to craft BMS solutions. We wanted our solutions to be highly customizable and scalable to the clients and eventually succeeded in creating so.
Airport Management-The Spark Where It All Started!
Today, Building Management Systems get implemented everywhere for various reasons and statistical data on their efficiency to reduce energy consumption points out that they save energy by 30% by automating HVAC systems and other lighting regulators in a building.
So when it comes to airports, we all know how strenuous it is to manage them!
From checking for cracks in the runway to keeping an eye on the weather for the day, it is all numerous and involves the manpower of so many teams and data insights.
That said, our endeavor into implementing Building Management Systems began with airport management. Crossing the technical challenges and skipping a few ideas, we narrowed our aim to bringing an integrated Building Management for facility managers and the Support Team to leverage. Our Building Management System:
-Makes everyday management of 2000-3000 fault tickets seamless with a centralized dashboard.
-Establishes connectivity between 2 million sensors and gets insightful inputs from them.
Salient Features of Our BMS Solution
Our BMS solution brings together all your multi-systems and sub-systems into a single-centralized portal and makes handling Building Management tasks as simplistic as possible.
With a touch of predictive maintenance and a thing for keeping track of all the IoT sensors in your building, our BMS portal always keeps your building under monitoring.
Bringing the charm of automation into building management, our BMS platform automates several manual tasks and keeps fault ticket management seamless. From getting inputs from the IoT sensors to automating ticket closure once it's resolved, our BMS solutions give a comprehensive roadmap to resolving fault tickets.
Our IBMS solutions from Spritle have it in it to assist your technicians and the Building Maintenance team by providing them with relevant alerts and notifications about the status of assets and faults that needs resolution.
You could be a building owner or a Smart city planner or an organizational owner trying to get hold of an efficient and comprehensive solution for building management, we have it all in our Integrated Building Management Solution!
Why Our IBMS Solution?
As often as you might get into the loop of figuring out why you must go for our IBMS solution, let us discuss this in detail in this section!
Being professionals in resolving integration issues with Building Management solutions, our Spritle team always takes a cost-effective approach to create your Integrated Building Management System and makes the integration process as simplistic as possible.
Well-known in the industry for delivering effective BMS solutions that without any doubt would elevate operational efficiency in companies and Smart Buildings, our suite of solutions includes
Smart Facilities Management Systems,
Enterprise Service Management, etc.
So, are you looking for an efficient Integrated platform to consolidate all your Building Management Tasks in one place? Connect with us today to figure out your solution with our team.
Conclusion
While moving towards a more technophilic future is all exciting and alluring, there is no doubt Smart technologies will change the way we maintain our buildings. And according to recent growth forecast reports for Building Management Systems, they will have a growth rate of 14.64% in the upcoming years. So, get in touch with our team to roadmap your building management journey towards success and operational efficiency! Needless to say, our team is always here to help you!