'A healthy heartbeat is a wonderful treat'. Hi guys. Why about heartbeats out of the blue? Because the blog is something related to it 😆. Yes, it is about "Heart Rate Measurement using Apple watch: Explore the hidden coding facts", the second webinar in Digital Healthcare Solutions of Spritle Software.
We had our speaker Mr. M Prabakaran, Spritle Software's Senior Mobile Apps Developer talk about the heart rate measurement using an Apple watch and he really did reveal a few of the hidden coding facts with a code walk-through at the end of the session.
Actually, I really didn't know how to continue the narration as I didn't want this blog to be the same as my last one, Interview with Anesthetist Dr. Rangaraj Sethuraman. If you have not read it yet, click the link, go and read it now. But, make sure to come back here to read this blog too😁!
It is not easy to cover a forty-minute webinar in a four-minute blog as there is plenty of information to fit in.
As I write about the first question while listening to one of my favorite songs (don't worry, you'll not find any lyrics in between 😜), How is the heart rate measured, and give a comparison between the conventional & digital method…?
Heart rate is nothing but the number of times your heart beats for a minute measured in Beats Per Minute (BPM). Conventionally, the heart rate is measured by placing your fingers over the radial artery. When you feel your pulse, you count up to fifteen seconds and then multiply it with four to get a minute's count. A resting heart will have heartbeats between 60 and 100 (when you are doing any activity, it might go up to 180 or 200)
Factors that might have an influence on heart rate like age, fitness & activity levels, emotions, having cardiovascular diseases, body size, if you are a smoker or under any medication, etc. So, this is how the heart rate is measured manually or conventionally or whatever you want to add.
Digitally, heart rate can be measured and tracked through different methods like portable machines, example blood pressure monitoring at home, digital fitness trackers (like Apple watch, Mi band, Fit bit and many more), smartphone apps like Cardio, Instant Heart Rate, Cardiac Diagnosis and finally exercise machines which detects your pulse while you are working out. The most accurate device for checking your heart rate is a wireless monitor that is strapped around your chest.
Moving on with the flow, the second question was about digital health data, "How the measured heart rate data is digitized? And what would be the benefits of data digitization?"
Prabakaran starts off with that not only heart rate data must be digitized, as we saw the need for digital healthcare during the pandemic period. He talks about three types of Apple's frameworks to build applications for digital data:
1.) Apple Health Kit: a developer framework that lets the developers access few data in the Health App on various Apple devices. This framework is mostly used to create applications that focus on tracking heart rate, activity levels, sleep, diet, nutrition, etc.
2.) Research Kit: a framework used to create apps that gather meaningful data from the patients like a medical survey.
3.) Care Kit: a framework used to build apps to have a better understanding of the data that is sent to the practitioner.
The benefits of digital data would be: the more you know your health the more you can take care of it. Organization and access to such data become easier. You can keep an eye on your health and changes occurring over time and detect abnormalities & get treated immediately.
Prabakaran, "Let me tell you an incident. A twenty-five-year-old guy was notified for irregular rhythms (irregular heartbeats) in his Apple watch and quick measures were taken. This is the benefit of digitizing health data I would say."
Working of the Apple Watch (third question):
"Apple's watch series uses a technique called Photoplethysmography (i.e.) an optical method to detect the volume changes in blood by using optical sensors over the surface of the skin (means it is non-invasive). If you take a close look at the back of the watch, there is a row of green LEDs, which are paired with a photo-detector to detect the amount of blood through the blood vessel laying under the wrist's skin area at that moment of time.
By flashing the LED lights a hundred times per second, the watch can calculate the number of times the heart beats for each minute that is ultimately your heart rate. The optical sensors in Apple watch support a range of 30–210 beats per minute.
This is the method that Apple adopts to measure your heart rate during breathing and workout sessions to calculate your average walking steps & Heart Rate Variability (HRV)."
Oh! We've already reached the fourth question 😱 !!
So, "How the security of the data is maintained by Apple?"
Apple cares more about the privacy of the users as in recent days people are more concerned about their privacy & security and have claimed that it is one of their fundamental rights!
As you see that every Apple product is designed in a way that only minimized user's personal data is collected and provides manipulation options for the user like,
on-device processing of data
provide control over your data
gives transparency of data
Now, talking about the privacy of the Health App of Apple, the user can decide which data should be collected and what other apps can access them through the Health app. About security, we have Face ID, Touch ID, etc. to maintain the security.
Consider if a third-party application is requesting for transfer of your data. The transfer will be done with Encryption only. Health Privacy Policies also play a major role in maintaining the security of data (HIPAA Compliance).
The fifth question proceeded as, "How the heart rate data is synchronized with the Health App of Apple?"
"In my opinion, the Health App is the most advanced application of Apple. To provide more uniqueness to your data, there is a Medical ID created very specific for you. Using this ID you can allow other people to access data. So say if one of your practitioners wants to access your heart rate data, he can enter your Medical ID but you will be the one providing a yes or no to that request.
A simple app, that uses the Health Kit development framework to fetch the heart rate from the watch and will automatically sync the data to the health app. The fetched data can be manipulated (the data is synchronized with every device you have of apple-like iPhone, Apple watch and even other applications)"
Yeah, finally we have reached the end!! The last question was asking Prabakaran to show a demo and to reveal some of the codings that he has done. He was very generous in mind. He showed the code as well as a demo with a virtual Apple watch screen and a virtual iPhone screen.
The below pictures shows the coding of the app to collect various data like heart rate, fitness levels, activities, sleep data, etc.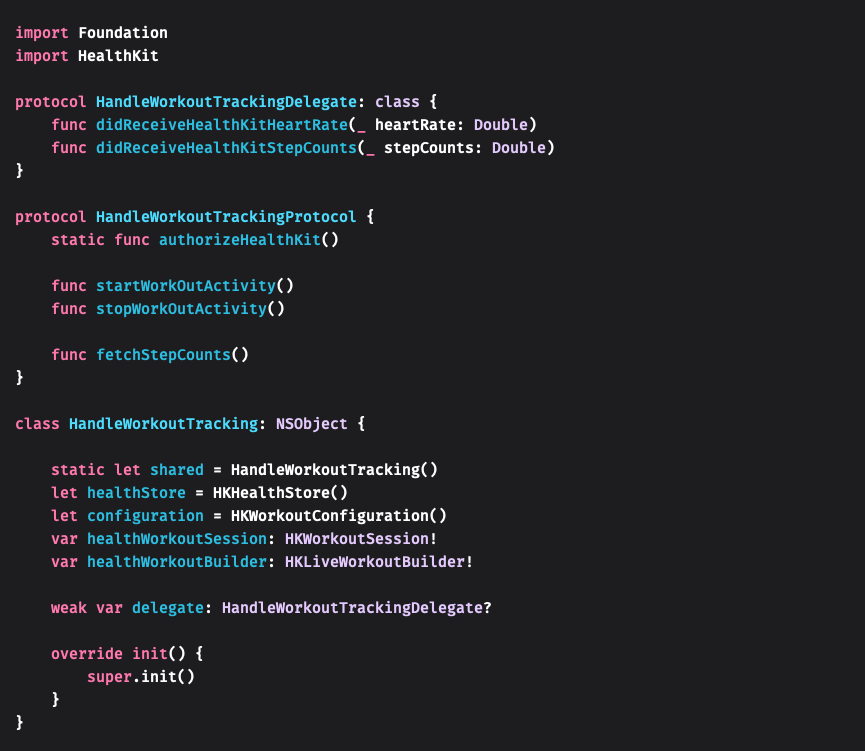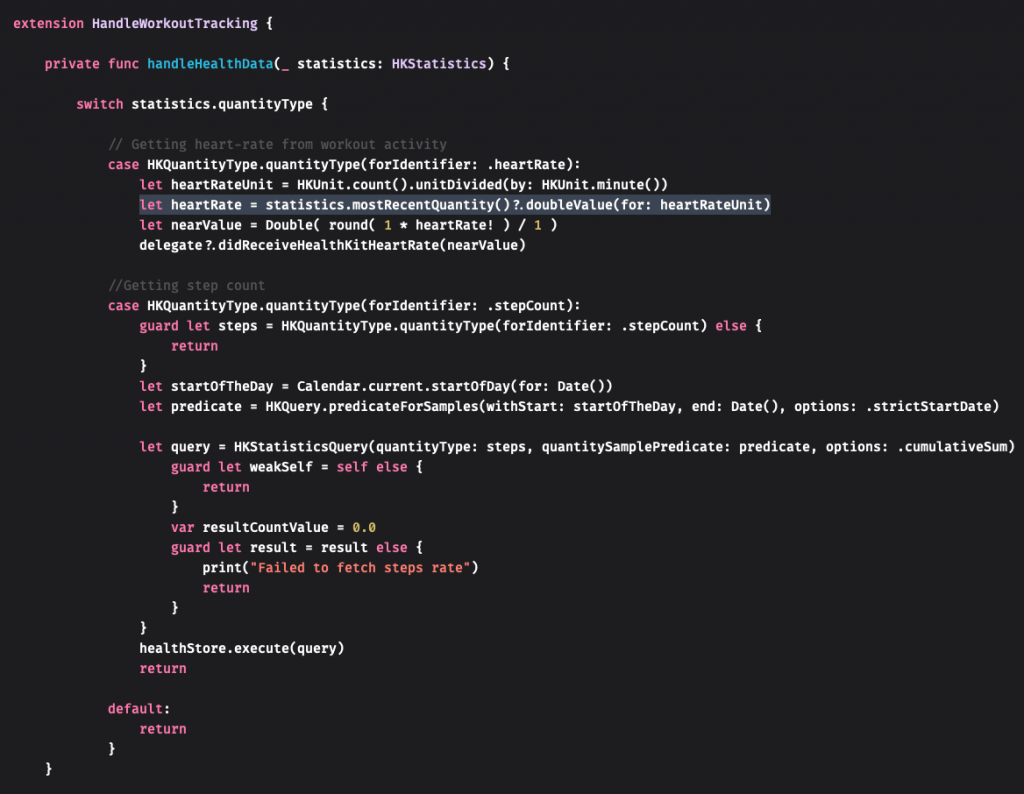 The below two images shows the Virtual screens of the Apple watch series 6 and iPhone 12 Max Pro. It shows enabling the heart rate measurement in the Apple watch and displays the collected data in the iPhone.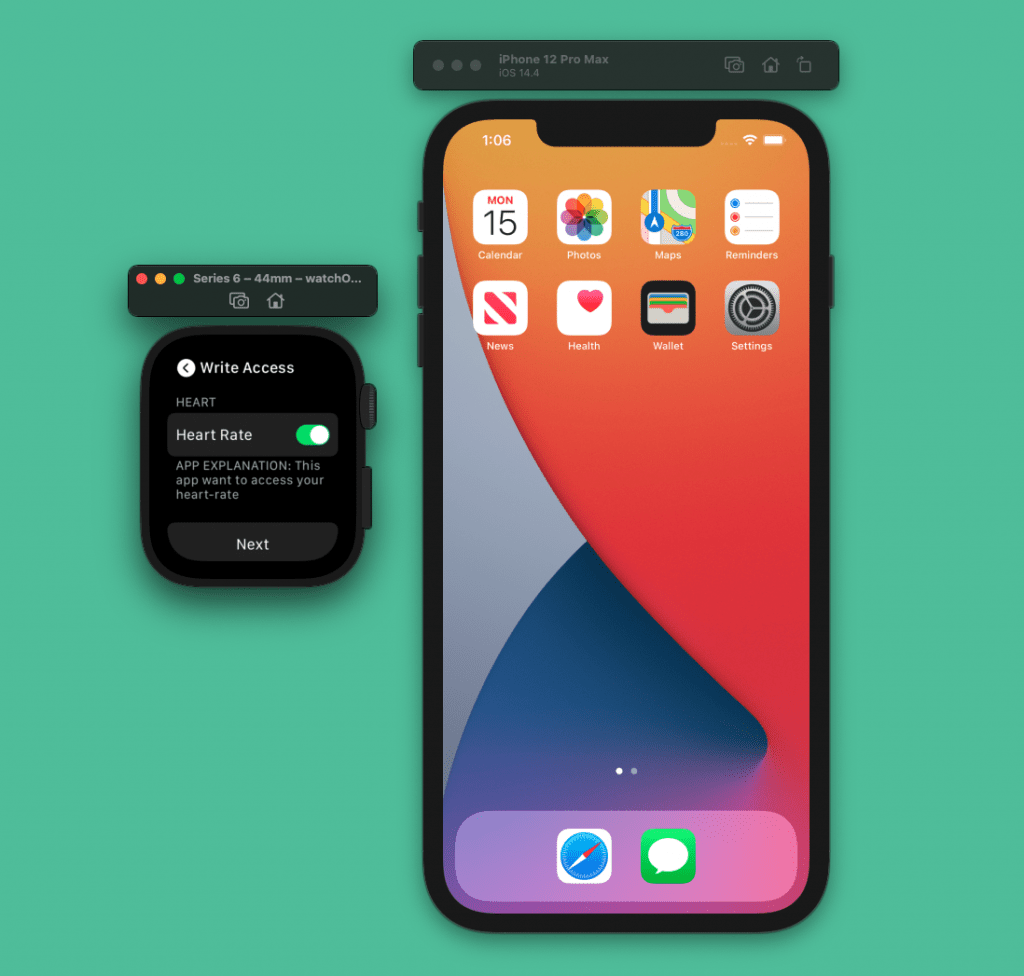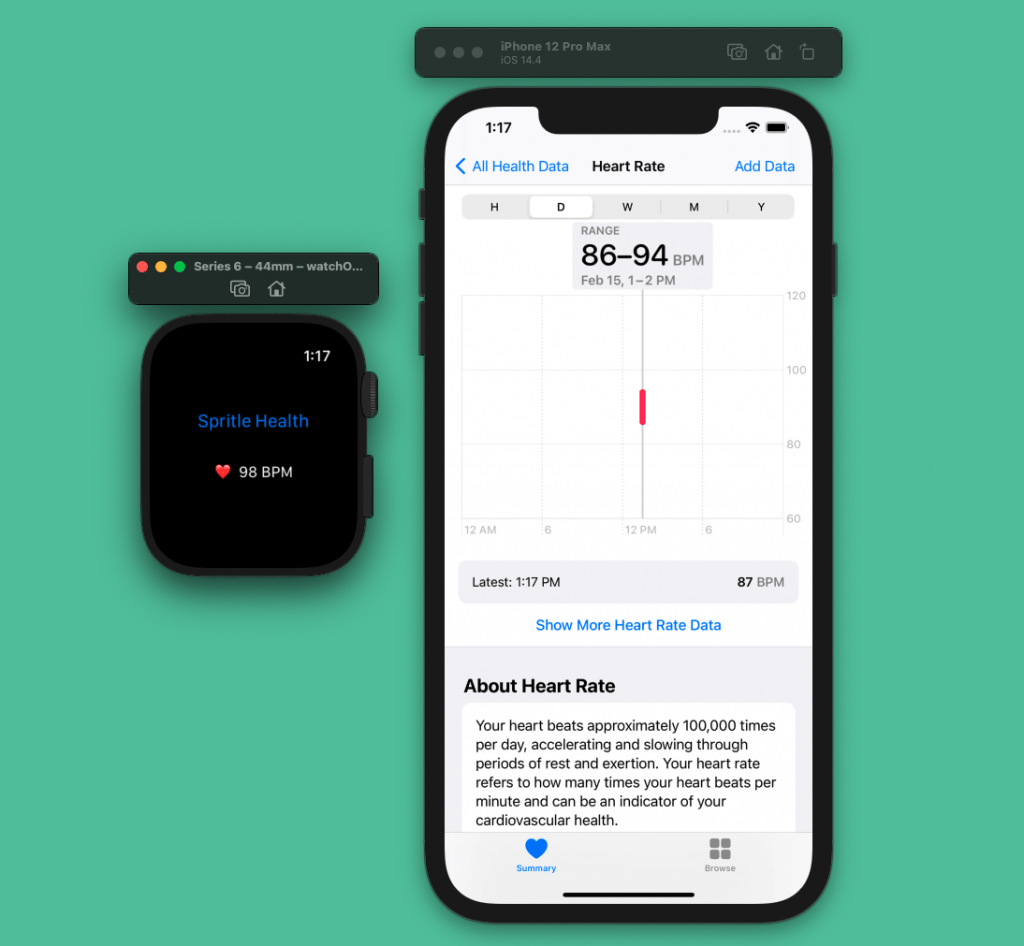 The demo was followed by a Question & Answer session between the speaker and the participants. And that is how the webinar was wrapped up in peace ✌️ against all the technical issues we faced. Hope you found this blog useful.
So again, there will be another webinar session with a different speaker from Spritle to share their experiences and hardships in the various digital healthcare projects they have worked with. Look forward to it and keep supporting us as you always do😎.
Thank you and happy learning….!