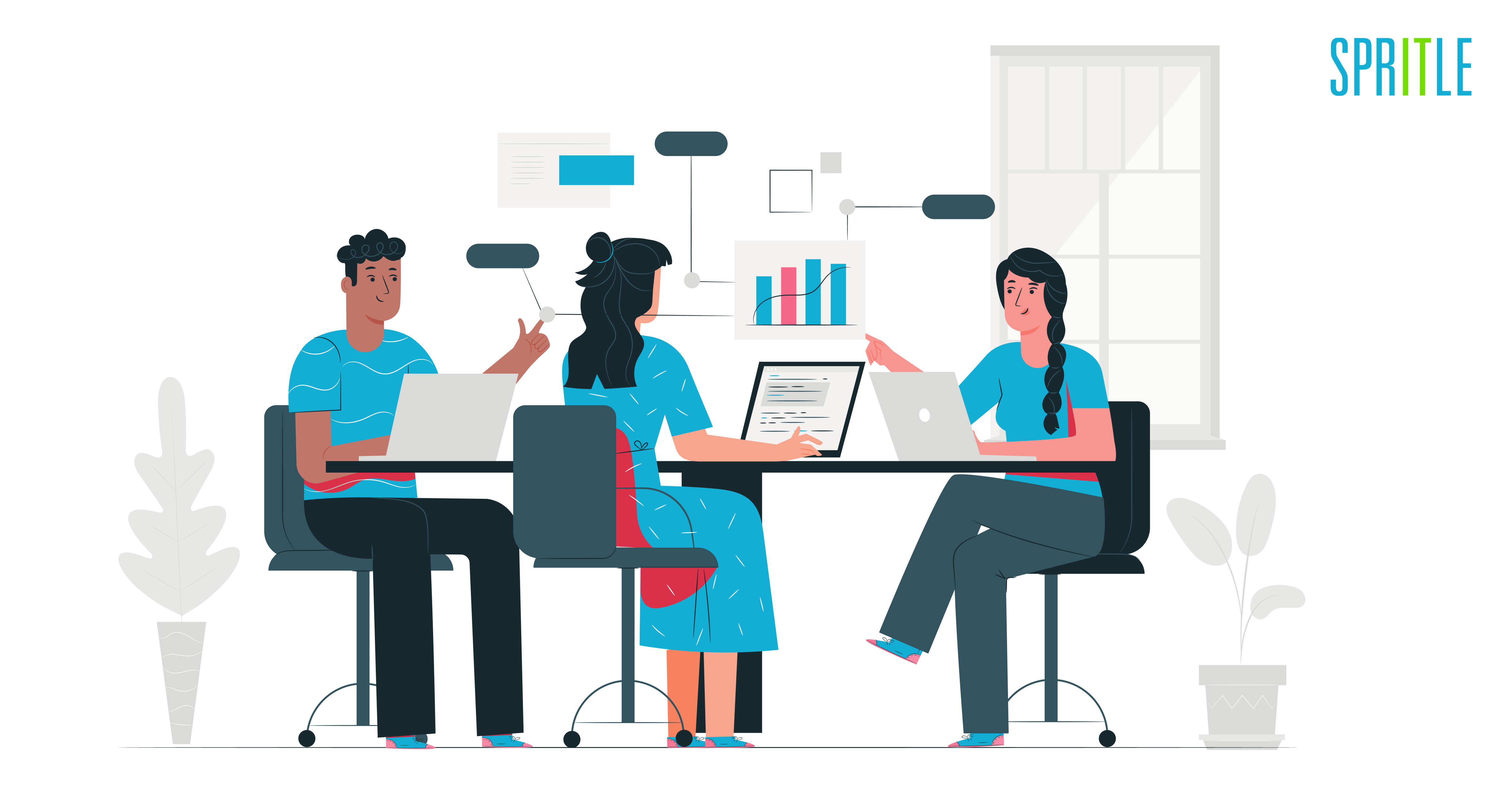 Hi! I am Siddharrth. I work as a Business Analyst in the Spritle services team for the past 5 months.
I'll start by providing a brief overview of my interview experience with Spritle Software.
In the first week of September 2022, I had my initial round of interviews. The first round was to create SRS documentation for the given use case. Then followed by three F2F interview rounds. Finally! I got selected for the role of Business Analyst at Spritle Software.
For the first round of my interview, I provided the SRS document below
Five months have already passed! I then came to the realization that I had learned more in a very short period than I had in the previous four years in engineering.
Initial days at Spritle
I received basic training for this position on my first day of work. I was introduced to the team. On the second day, I was told to do documentation in Business Analysis training materials. This documentation gave me clarity on the roles and responsibilities of a Business Analyst. I was assigned to a real-time project on the third day. I was so surprised to be given a project at the very beginning. But I've realized that understanding business analysis tasks is more about doing it than studying it. I got to learn about creating perfect documentation from Vaashini, ways to handle clients from Prabhu, and a lot of technical stuff from Surendran and other developers. And the most important thing in Spritle, is they teach "how to do" and not "what to do" (i.e) you get the freedom to present your ideas. You get appreciated for the things you have done. I am currently working on various projects and recently closed two.
My first project experience!
As said before, I was assigned to the project on the third day of my joining. Since this was my first project in my career, I was a bit nervous. I had an amazing team who guided me through every step of the process from handling client calls, writing MOMs and emails, drafting a scope document, preparing WBS and coordinating with the developers, and so on. I wouldn't say that I learned all the above stuff in the first project. At least I had some confidence as I started to work on my next project.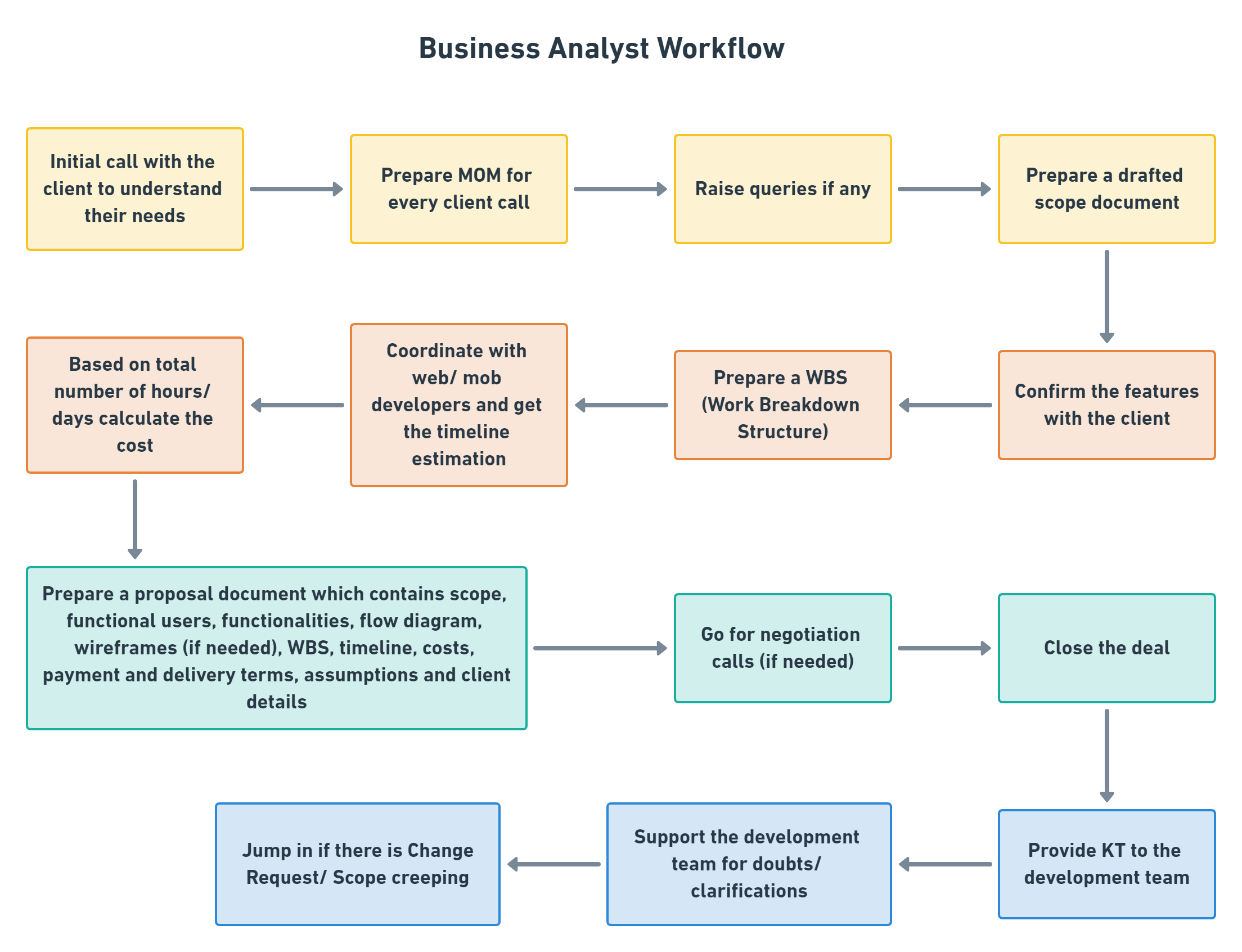 The above workflow is followed by every Business Analyst during the requirement analyzing/ gathering process
My first project closure!
After two months, I closed my first project. This project was a bit more of a technical requirement than a business requirement. Initially, I had difficulties understanding the technical terms. After getting clarity on this from Surendran and other developers, I started working independently. And also, this was the time I took the client call on my own. The client too was so clear in explaining the requirements which made my work easier in designing the system architecture diagrams and wireframes. At last, by end of November, we closed this project! The kind of appreciation you receive from the top management after winning the project is what counts most to me.
Exploring new technologies/ Organizing events
I recently started to work on Web3 marketing materials and requirements. I got to learn a lot from the senior developers and managers both in the technical and business aspects. We at Spritle planned to conduct Web3 events. I'm delighted to work with other organizers, designers, content creators, and developers as a member of the organizing team.
My first client visit across states!
I recently visited Bangalore for an industry-based requirement. I got to explore the SOPs for each department in that industry. The main aspect of being a Business Analyst is that you will be exploring lots of things around you. The most important thing about this visit is that I had my first flight experience from Bangalore to Chennai.
Work-life at Spritle!
I conclude by saying, my seniors used to advise me to "enjoy your life before going to work because your life will not be the same" when I was in college. But even after joining Spritle, I don't sense any change. That is how the culture and the people at Spritle are.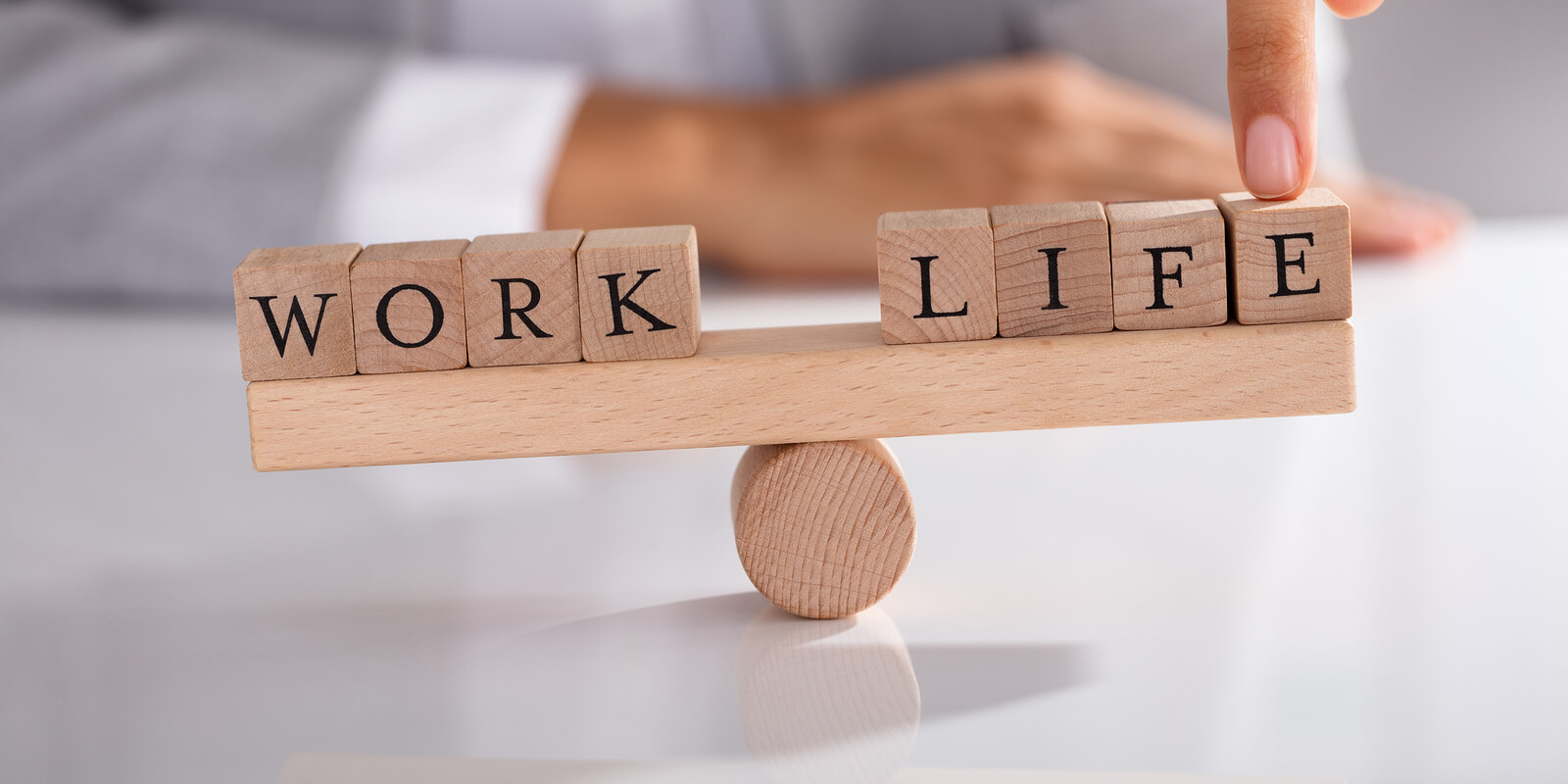 Let me share some tips for those who are looking for a career change or a career path in business analysis (especially for the IT industry)
Initially, learn the roles and responsibilities of a Business Analyst.
We have lots of e-learning platforms where you can learn the fundamentals of business analysis.
The fundamental skills that a Business Analyst should possess are excel and presentations
Choose a use case and try to do the scope/ SRS/ FRS/ BRD documentation on your own (you can add the documentation as projects in your portfolio)
Explore the new/ trending technologies (Note: BA is not a coder, but needs to understand how it works)
Watch videos, series, or movies that improve your communication and negotiation skills

The Wall Street
Silicon Valley

Do read personality development books which boosts your confidence when interacting with clients

How to win friends and influence people
You can win

The fundamental skills a Business Analyst requires are shown below