There are a lot of apps that come and go, but there are a few that leave a mark. Well, there is this Application called Freshdesk-playstore integration does that for you.

Manage your time and your business
There are times when you cannot manage it all once. Well, really. You cannot simultaneously eat and watch television at the same time. Well, what if I told you that there is an application that helps you to convert your reviews into Freshdesk tickets so that you can reply to every one of them easily? Don't be shocked. When someone came and told me about this application, I had the same confusing look on my face but upon demonstration, I actually loved it.
In this busy market, it is not possible to take care of each and one of your customers privately. This, in turn, builds a bad reputation for your company's name and this is how you lose your best clients and trust me, this never goes down the smooth way. You need to take care of your clients and PlayStore Freshdesk Application helps you to save your time for the best so that you can manage your work and connect with your users.
Here's how you can make it work
This Freshdesk playstore integration that we have for you will help you to optimise your clients and reply them individually with the help of our application. If you have limited time in your hands but you need to make sure that your clients have your personal touch at the same time then nothing is better than using our application for your own use. You just have to set the interval time for fetching the reviews and then enable the application. For every used and defined interval time, tickets are fetched and created.

Trying an application for the first time can be an anticipating decision but you will have to make your mind for the same. Communication is the key to management and with this app, it becomes as easy as it sounds.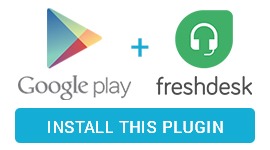 If you are interested in knowing the list of apps we built for Freshworks, check out https://apps.freshdesk.com/search/?partner_name=Spritle.
If you would like us to develop a custom app for your company, leave a comment below!